THE PERFECT CHATEAUBRIAND
Serves: 2
Prep Time: 10 mins
Cooking Time: 25 mins + resting time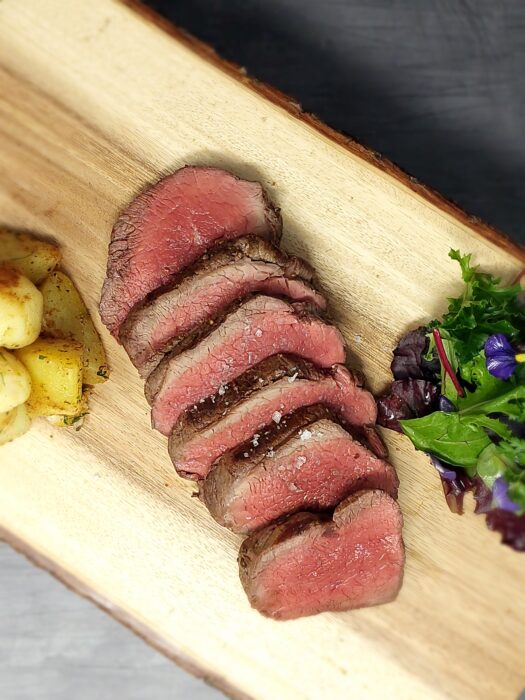 INGREDIENTS
1 x Chateaubriand (approx 400g)
Sea salt
Cracked pepper
30g salted butter
2 Tbls cooking oil
METHOD
Remove your steak from the fridge an hour before you intend to cook
it to get up to room temperature. Preheat the oven to 190c.
When your steak has reached room temperature, season liberally with
sea salt and cracked pepper. In a hot, ovenproof frying pan, heat 2
tablespoons of cooking oil. When the oil is almost smoking, carefully
place your steak into the pan. Seal well on all sides until a deep brown
colour. Add the butter to the pan and place the pan in the oven.
After 8 minutes, carefully turn the steak over and baste with any
butter or pan juices. Return the steak to the oven for a further 8
minutes.
Carefully remove your steak from the oven to check it for done-ness.
For rare, the internal temperature should be 50c. For medium rare 54c, for medium 60c and medium-well 65c.
If you are happy with the cooking of your steak, remove it from the
oven and baste it again with the cooking juices. Rest in the
pan, uncovered, for a further 10 minutes.

To serve
Carve into 6 round slices and present on a large wooden
board. Best served with chips, red wine jus and a classic bearnaise
sauce for dipping!