THE PERFECT DUCK CONFIT
Serves: 4
Prep Time: 10 mins + marinating time
Cooking Time: 3 hours + reheating time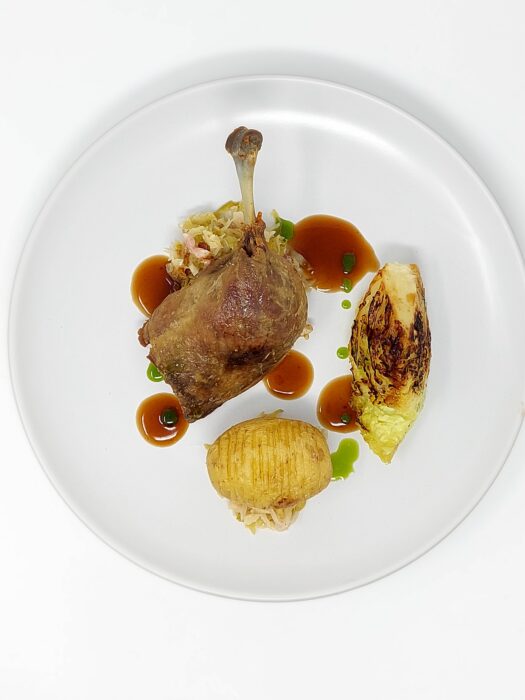 INGREDIENTS
4 x Yorkshire free-range duck legs
1 cup rock salt
4 sprigs thyme
1 litre cooking oil or duck fat
3 cloves garlic
1 bay leaf
1 orange – zest only
METHOD
To confit
Remove the duck legs from the fridge. In a bowl, mix the
rock salt, thyme and orange zest together. Liberally season the duck on
both sides and place on a plate with any remaining salt mix sprinkled
on the top. Leave to marinate at room temperature for 3 hours.

Preheat your oven to 120c. Brush any salt away from the duck legs
and rinse carefully and quickly under a cold tap. Pat dry. Place the
duck legs in an oven proof tray. Add the garlic and bay leaf and cover
with cooking oil or melted duck fat. Make sure the duck legs are
submerged in the fat and weigh down if necessary with a small saucer
or oven proof dish. Cover the tray with tin foil or a tight fitting lid.
Place into the oven for 3 hours.
After 3 hours the duck should be very tender but not quite falling off
the bone. If you can, leave the duck to cool down completely in the
fat. Once cool, with clean hands or tongs, transfer the duck to a jar or
container and top with the cooled fat – be careful not to add any of
the duck juices or jelly from the bottom of the tray. Cover and store
in the fridge for up to 6 weeks.

To reheat
Preheat the oven to 180c. Remove the duck legs from the
fat and allow them to come to room temperature on an oven tray.
When the oven is hot, place the duck inside and bake for 20 minutes
or until the skin is crispy and the legs have warmed through. Serve
whole with braised cabbage, duck fat potatoes and red wine sauce or
shred it through a salad with orange and walnuts