ROASTED SILVERSIDE OF BEEF
Serves: 6-8
Prep Time: 15 mins
Cooking Time: 2 hours + resting time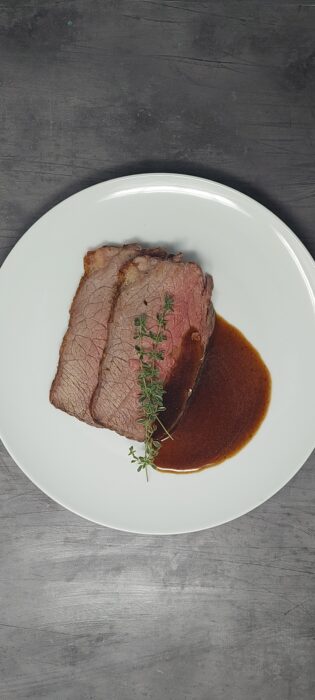 INGREDIENTS
1 x Beef Silverside joint
1 x carrot – chopped
1 x celery stick – chopped
1 x onion – chopped
2 x cloves garlic
2 x bay leaves
2 x sprigs thyme
1 x glass red wine
500ml beef stock
2 tspn cornflour
30ml rapeseed oil
METHOD
For the beef
Remove the joint from the fridge one hour before cooking to allow it to reach room temperature. Preheat the oven to 220c.
In a large roasting tray, place the carrot, onion, garlic, thyme, celery and bay leaves. Drizzle the joint of beef with rapeseed oil and season well with sea salt and black pepper. Place the tray in the oven and cook at 220c for 20 minutes to caramelise the joint. After 20 minutes, lower the heat to 170c and cook for a further 20 minutes per 500g (so a 2kg joint would cook for a further 80 minutes).
After the alloted cooking time, remove the meat from the oven. Sit the joint in a clean tray and rest for 20 minutes. Reserve the oven tray with the
vegetables.

For the gravy
Place the oven tray with the vegetables and herbs onto a hob and turn on to a high heat. Add the wine and scrape the bottom of the tray to release any caught bits and reduce the wine by half. Add the beef stock to the pan and bring to the boil. To thicken the gravy, add the cornflour mixed with a little cold water or add some gravy granules. Season the gravy and pass through a sieve.

To serve
Remove the strings from the joint. Carve with a sharp knife
into thin slices and arrange on a large platter with your accompanying
vegetables and Yorkshire puddings. Add any meat juices from the
resting tray to the gravy and serve alongside the meat.