ROASTED TOPSIDE with GIANT YORKIE and SALSA VERDE
Serves: 6 - 8
Prep Time: 1 hour
Cooking Time: 1 hour 40 mins including resting time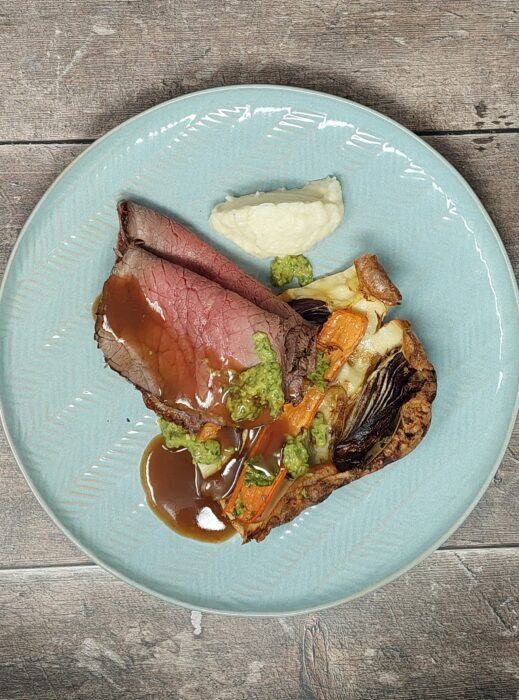 INGREDIENTS
2kg Beef Topside joint
Sea salt
Cracked pepper
4Tbls cooking oil
Few sprigs of thyme
Few sprigs of rosemary
1 x red onion – cut into 8
4 x carrots – peeled
1 x cup parsley – leaves only
3 x large gherkins – chopped
2 Tbls capers
2 x cloves garlic – peeled
Olive oil to blend
4 x large eggs
1 x cup plain flour
1 x cup full fat milk
Gravy granules
METHOD
For the Beef
Remove your joint from the fridge 1 hour before you intend to roast it and allow it to come up to room temperature.
Preheat the oven to 220c. In a roasting tray, rub 1 tablespoon of cooking oil around the joint and season it well with sea salt and cracked black pepper. Place the tray into the oven and immediately reduce the temperature to 180c. Roast the joint for 15 minutes per 450g.
Once the joint has reached an internal temperature of 52-55c, remove from the oven and place it onto a plate topped with the roasting juices. Reserve the tray for the yorkie and keep the oven on. Rest the joint, uncovered, for 30-40 minutes. Reserve all the resting juices for gravy.

For the Yorkie and Vegetables
Peel the carrots and place them whole into a saucepan. Cover with cold water and season with salt. Bring them to the boil and simmer until just tender. Remove them from the water and set aside. When cool enough to handle, cut in half length-ways. Reserve the carrot water for the gravy.
To make the yorkie mix, whisk the eggs, milk and flour together until smooth. Season with salt and pepper and set aside to rest for 10-15 minutes. Next place the remaining oil into the roasting tray and add the onion wedges and the halved carrots into the tray with the rosemary and thyme, then return the tray to the oven and increase the heat to 220c. When the oil is sizzling, carefully pour the yorkie mix into the tray and return it to the oven. Cook it for 25 minutes or until puffed up around the edges and cooked in the centre. Remove from the oven and set aside.

For the salsa verde
In a small tub or jug, blitz together the parsley, capers, gherkins and garlic with olive oil until you achieve a coarse paste. Add more oil as required to form a sauce. Season to taste and set aside.

To finish
Add your resting juices to your reserved carrot water and bring to the boil. Thicken as desired with gravy granules. Carefully remove your giant Yorkie from the tray and place it on a large chopping board. Top the yorkie with thinly sliced roast beef and a good drizzle of salsa verde. Present at the table and cut it into portions. Best served with a creamy celeriac puree or some buttery mash.