THE PERFECT RUNNY SCOTCH EGG with APPLE and FENNEL SLAW
Serves: 4
Prep Time: 20 mins
Cooking Time: 15 mins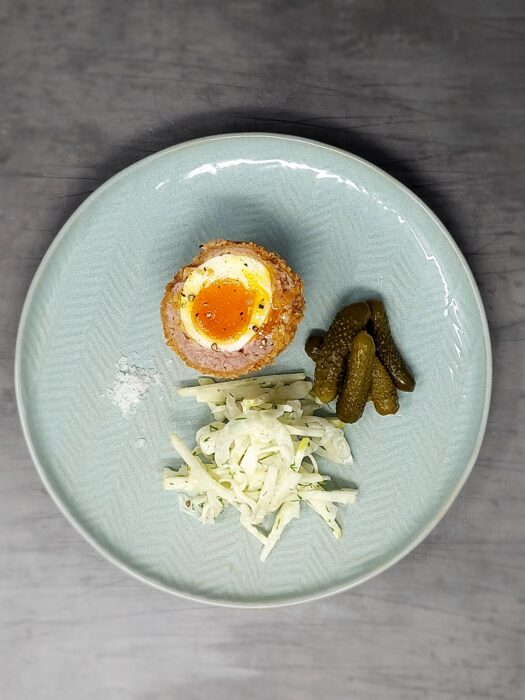 INGREDIENTS
5 x Potter's free range eggs
75g Panko bread crumbs
2 Tbls plain flour
4 x 4oz Sykes House Farm sausage patties
1/2 bulb fennel
1 x Granny Smith apple
1 cup of white cabbage – shredded
2 Tbls natural yoghurt
Small handful of soft herbs such as
dill, fennel or chervil
1 x lemon
Sea salt
METHOD

For the eggs
Bring a pan of water to a steady boil and carefully place 5 eggs into the water with a slotted spoon. Boil on high for 5 minutes and 45 seconds. When the timer goes, carefully remove the eggs and place them into a bowl of iced water to stop cooking. Once cooled, place the eggs into the fridge to chill completely, preferably overnight. Once cold, peel the eggs and set aside in the fridge ready for coating.
On a sheet of cling film or non-stick parchment, place a sausage pattie and press to form a large disc approximately 4-5mm thick. Holding the sausage disc in your hand, place a soft boiled egg in the centre of the sausage disc and gently bring the sausage meat up around the egg. Seal the sausage meat completely with the egg inside and gently mould it into a large egg shape. Set aside the sausage 'eggs' in the fridge to chill.
To crumb the eggs, you will need 3 mixing bowls. Fill 1 bowl with the bread crumbs, 1 with the flour and 1 with the remaining beaten egg.
Place a sausage ' egg' into the flour first and coat it completely. Then place the floured sausage 'egg' into the beaten egg to coat. Finally, place the egg coated sausage into the crumbs and coat completely. Try to use one of your hands for the 'dry' processes(flour, breadcrumbs) and the other hand for the wet (egg). Set aside to fry later.

For the slaw
Thinly slice the fennel and cut the apple into matchsticks.
Place into a bowl with the shredded cabbage. Add a squeeze of lemon and a good pinch of salt. Toss together and set aside for 5 minutes. To the slaw
mix, add the yoghurt and the chopped fresh herbs and toss together. Set aside until required.

To serve
Preheat your deep fryer to 170c. Place your eggs into the fryer and fry for 5 minutes and 30 seconds. Once cooked, remove the eggs from the fryer and set aside for 8-10 minutes – this will enable the eggs to warm through without over cooking. Cut a tiny sliver off the bottom of each egg to enable them to stand up without toppling over. Slice the eggs down the
middle to expose the runny yolk and serve with the slaw and some baby
gherkins or pickles. Alternatively, serve with brown sauce, fat chips and a
pint of glorious ale.