SESAME & HONEY CRUSTED DUCK with ORIENTAL SALAD
Serves: 2 - 4
Prep Time: 10 mins
Cooking Time: 20 mins + resting time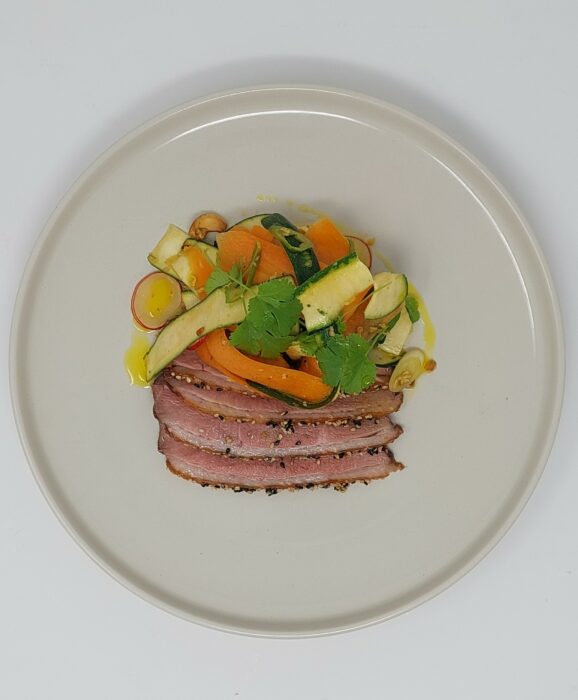 INGREDIENTS
1 x large Yorkshire duck breast
1 tablespoon soy sauce
1 tablespoon rice wine vinegar
2 tablespoons rapeseed oil
1 tablespoon sesame oil
1 thumb-sized piece ginger – grated
1 tablespoon sesame seeds
1 teaspoon honey
1 x carrot – peeled
1 x courgette
30g cashew nuts
4 x spring onons
A few sprigs fresh coriander
2 handfuls salad leaves – such as rocket
4 x radishes – sliced
Sea salt
Black pepper
METHOD
For the duck
Preheat the oven to 180c. Remove the duck breast from the fridge 20 minutes before you intend to cook it. Season the duck with sea salt and a twist of pepper and place it skin-side down into a cold pan. Gently cook the breast over medium heat for 8-10 minutes to crisp up the skin and render out the fat. Carefully drain some of the fat from the pan and flip the duck breast over. Paint 1 teaspoon of honey onto the breast and sprinkle liberally with the sesame seeds. Place the duck breast into the oven for 8 minutes. After 8 minutes, remove the breast from the oven and rest for 10-15 minutes.

For the vinigarette
In a small bowl or jug, mix together the rice wine vinegar, rapeseed and sesame oil, soy sauce, and grated ginger. Whisk or blend until completely combined. Set aside.

For the salad
Shave the carrot and courgette into a large bowl with a standard vegetable peeler. Add the chopped spring onions, radishes, coriander, toasted cashews and salad leaves. Slice the rested duck as thinly as possible and place on a large plate. Toss the salad with the dressing and place next to the duck. Alternatively, you can toss the salad with the duck and serve more rustically in large pasta bowls.