SLOW COOKED YORKSHIRE LAMB TAGINE
Serves: 6
Prep Time: 40 mins
Cooking Time: 2 hours 30 mins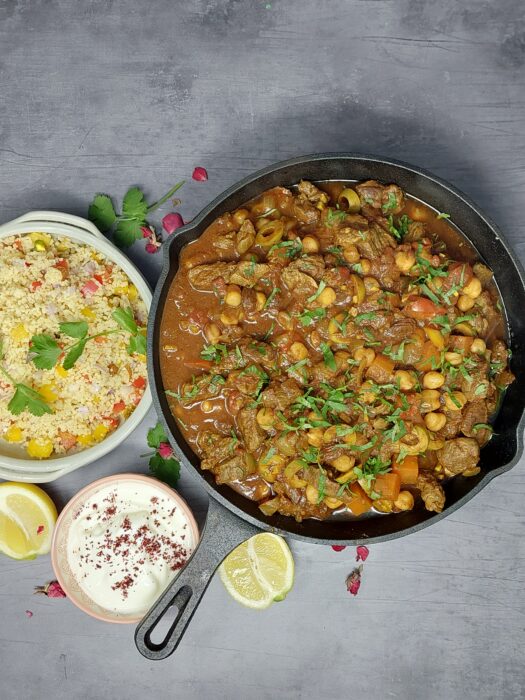 INGREDIENTS
1kg diced Yorkshire lamb
1 large onion
1 large carrot
3 cloves garlic – crushed
1 thumb-sized knob ginger
½ red pepper
½ yellow pepper
1 teaspoon ground coriander
2 teaspoons cumin
1 teaspoon turmeric
½ teaspoon cinnamon
½ teaspoon ground all spice
1 teaspoon paprika
1 tablespoon tomato paste
1 can chopped tomatoes
1 can of chickpeas – drained
400ml water
½ cup dried fruit – chopped
2 tablespoons red wine vinegar
10 large olives
1 lemon
Fresh coriander
Salt
METHOD
Method
Preheat the oven to 160c. In a hot frying pan, brown the diced lamb
in batches and transfer to a large casserole or roasting tray. In the
same pan add the diced onion, carrots, peppers, garlic, grated ginger
and 1 tablespoon of olive oil. Fry until slightly browned and add the
spices. Fry the spices for 2-3 minutes then add the contents of the
pan to the casserole with the lamb. In the pan, add the tomato puree,
canned tomatoes, canned chickpeas and water. Stir the pan to
remove any caught or burnt bits – this will add flavour and colour to
the sauce. Next add the tomatoes, chickpeas and water to the casserole.
Add the dried fruit, cover tightly with a lid or tinfoil and place in the
oven. Cook covered for 2 hours.
After 2 hours, remove the lid and place the casserole back in the
oven. Reduce the liquid until it forms a thick sauce. Add the vinegar
and season accordingly.
Finish the tagine with slice fresh olives, a squeeze of lemon and a handful of chopped fresh coriander. Great with warm cous cous, grilled flatbreads, a fresh tomato salad or extra thick yoghurt.