SLOW-COOKER PULLED PORK with CRUSTY HOMEMADE BREAD & SLAW
Serves: 6-8
Prep Time: 20 Minutes
Cooking Time: 8 hours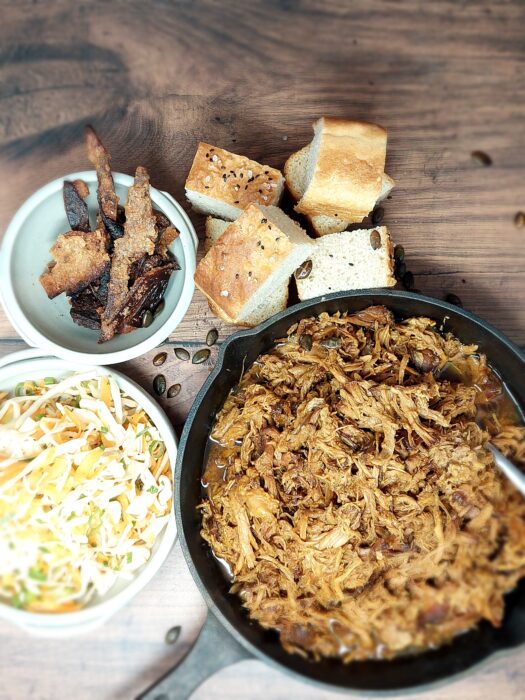 INGREDIENTS
1 x Outdoor reared Pork Butt in
Divine BBQ marinade (2kg)
500g strong bread flour
1 x sachet dried yeast (7g)
1 tspn sugar
Sea salt
1 x bottle of dry apple cider
1/2 small white cabbage
1 x large carrot
1/2 bunch spring onions
1 Tbls white wine vinegar
Cracked pepper
Mixed seeds such as pumpkin,
sunflower or sesame
3 Tbls olive oil
Rock salt
A handful of chopped parsley
METHOD
For the Pork
Remove the pork from the fridge and bring up to room temperature. Place the pork in the slow cooker with 1 bottle of cider, set to low, and cook for 8 hours (or overnight). Leave to cool in the liquid. Once it is cool enough to handle, carefully remove the pork from the slow cooker and reserve the liquid.
For the Skin
Preheat the oven to 190c and gently remove the skin from the cooked pork. Place the skin on a non-stick tray and sprinkle with sea salt then place in the oven for 15-20 minutes and bake until crispy and crunchy. Set aside until required.
Next, with 2 forks, pull apart the pork and shred it completely. Return the pulled pork to the slow cooker and stir through the leftover juices. Season with sea salt and cracked pepper as preferred and set aside until required. Reheat gently in a large saucepan or casserole.
For the Bread
In a large mixing bowl or stand mixer, place the flour, sugar and a pinch of sea salt. Stir to combine and make a well in the centre.
Measure 325ml of warm water with the sachet of yeast and stir, then and add to the flour mix. Stir to combine and knead together on a floured surface, or mix on low with a dough hook, to form a smooth dough.
Leave in the bowl and cover with clingfilm. Set aside somewhere warm to double in size for approximately 1 hour. Once the dough has risen, knock the air out of it and place it in a well oiled Swiss roll tin or small oven tray. Cover with a clean, wet tea-towel and set aside to rise again for approximately 30 minutes.
Preheat the oven to 210c. When the dough has risen, gently drizzle with olive oil, a sprinkling of mixed seeds and a pinch of rock salt. Place into the oven and bake for 25 minutes. The bread should feel crusty and sound hollow when tapped. Set aside until required.
For the slaw
Thinly slice the cabbage, grate the carrots and finely slice the spring onions. Toss in a bowl with a good pinch of sea salt and a twist of cracked pepper. Set aside for 30 minutes. Finish the slaw with the vinegar and a handful of chopped parsley when ready to serve.