SLOW COOKER SPICY CHICKEN CURRY
Serves: Serves 4
Prep Time: 10 minutes
Cooking Time: 4 hours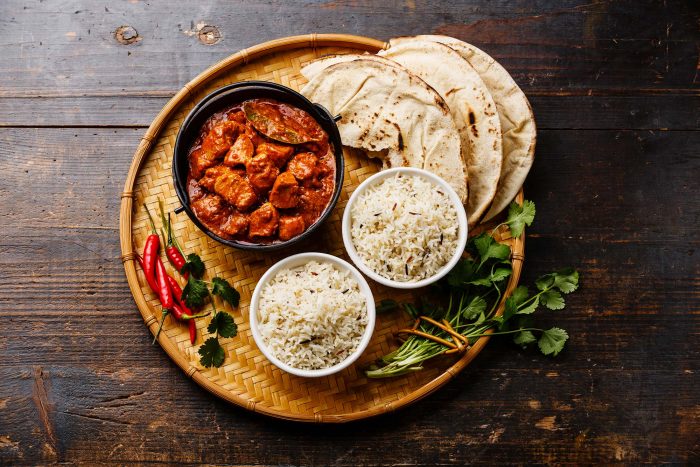 INGREDIENTS
1 tbsp vegetable oil
1 large onion peeled and chopped
3 chicken breasts boneless and skinless diced
3 cloves garlic peeled and minced
1 large piece of ginger about the size of your thumb, peeled and finely chopped
1 tsp salt
½ tsp ground black pepper
3 tsp hot chilli powder use less or mild chilli if you don't like your curry too hot
1 tbsp ground coriander
½ tbsp cumin
1 tbsp curry powder
1 tsp paprika
1 tsp cinnamon
240 ml chicken stock
400g tinned chopped tomatoes
2 tbsp tomato puree/paste
2 tsp sugar this is to counteract the acidity in the tomatoes
400 ml can full-fat coconut milk
To Serve: Boiled rice Chopped coriander and finely chopped chillies
METHOD
Preheat your slow cooker to high. Heat the oil in a large pan and add in the onion and cook on a medium heat for 5-6 minutes until softened.

Add the chicken and cook for 3-4 minutes until just sealed.

Add in the garlic, ginger, salt, pepper, chilli powder, ground coriander, cumin, curry powder, paprika and cinnamon.

Stir to coat the chicken and cook for 1-2 minutes.

Add in the stock, tinned tomatoes, tomato puree, sugar and coconut milk.
Stir, bring to a gently bubble then pour into your slow cooker and cook for 3-4 hours on high or 5-6 hours on low.

Take the lid off and give everything a stir (the oils will have risen to the top, so you can spoon most of it out, or just stir it back in). Sprinkle with coriander and chopped chillies and serve with rice.