SOY GLAZED CHICKEN with BROCCOLI
Serves: 4
Prep Time: 10 Mins
Cooking Time: 30 Mins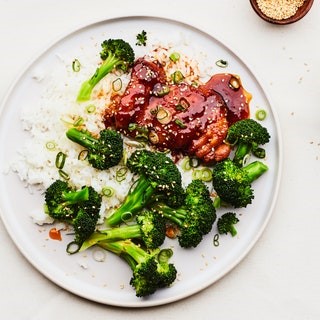 INGREDIENTS
3 Tbsp. honey
3 Tbsp. soy sauce or tamari
3 Tbsp. unseasoned rice vinegar
1 tsp. finely grated ginger (from one 2″ piece)
1 Tbsp. vegetable oil
4 skinless, boneless chicken thighs
1 1/2 tsp. kosher salt, divided, plus more
1 large head of broccoli, cut into florets
Steamed rice (for serving)
Sliced scallions, toasted sesame seeds, and hot sesame oil (for serving; optional)
METHOD
Step 1
Whisk honey, soy sauce, vinegar, and ginger in a small bowl.
Step 2
Heat oil in a large skillet over medium-high. Pat chicken dry and season with 1 tsp. salt. Cook cut side up (you want the smooth side with the most surface area to hit the pan first) until deeply golden brown, 8–10 minutes. Pour sauce over chicken and reduce heat to medium-low. Turn chicken and continue to cook, spooning sauce over occasionally, until sauce is syrupy and chicken is cooked through, 6–8 minutes more.
Step 3
Meanwhile, set a steamer basket in a large pot filled with about 1″ salted water. Cover pot and bring water to a boil. Add broccoli, cover, and steam until just tender, 4–5 minutes. Season broccoli with remaining 1/2 tsp. salt.
Step 4
Transfer chicken to a platter. Spoon any remaining sauce over. Serve with rice and broccoli alongside. Top chicken with scallions, sesame seeds, and sesame oil (if using).