SPATCHCOCK CHICKEN in LEMON PEPPER MARINADE with WARM POTATO SALAD
Serves: 4
Prep Time: 10 mins
Cooking Time: 55 mins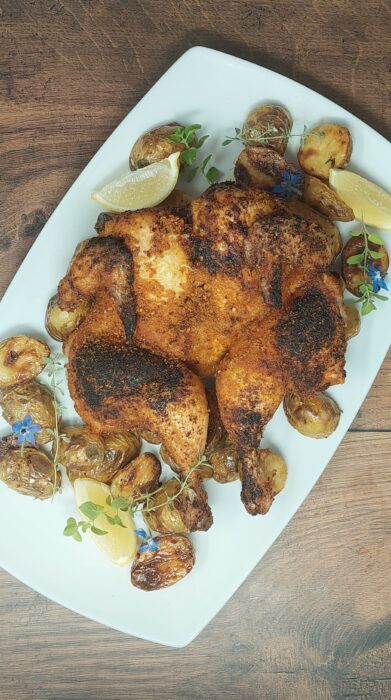 INGREDIENTS
1 x Spatchcock Chicken in Pepper Marinade
500g new potatoes – halved
1 x handful herbs such as oregano,
rosemary and thyme
2 Tbls chilli oil
1 x lemon – zest and juice
2 x cloves garlic – grated or crushed
Sea salt
Cracked pepper
METHOD
For the chicken
Remove the chicken from the fridge 1 hour before you intend to roast it and allow it to get to room temperature. Preheat the oven to 200c. Place the chicken into a large roasting tray and place it in the oven. Set a timer for 10 minutes. After 10 minutes, reduce the heat to 180c and cook the chicken for a further 40-45 minutes. Once the chicken has reached an internal temperature of 70c, remove it from the oven and rest it for 15 minutes.

For the potatoes
Cut the new potatoes in half and place them into a large mixing bowl. Add the herb leaves, lemon zest, garlic, half the chilli oil and a good hit of salt and pepper. Toss the potatoes to coat . When the first timer goes off for the chicken, place the potatoes into the tray around the bird, keep the mixing bowl aside. Return the potatoes and chicken to the oven to continue cooking. When the final timer goes off, remove the tray from the oven. Place the potatoes back into the mixing bowl and add the remaining chilli oil and the juice of half the lemon. Coat the potatoes in the dressing and set aside until required.

To finish
Place your warm potato salad onto a large plate or serving platter. Joint the chicken into pieces and scatter it over the top. Drizzle with the resting juices and any spare herbs. Serve with a few wedges of lemon and enjoy with a glass of cold white wine.