STIR-FRIED PORK WITH CHILLI, SESAME AND SOY
Serves: 4
Prep Time: 10 minutes
Cooking Time: 15 minutes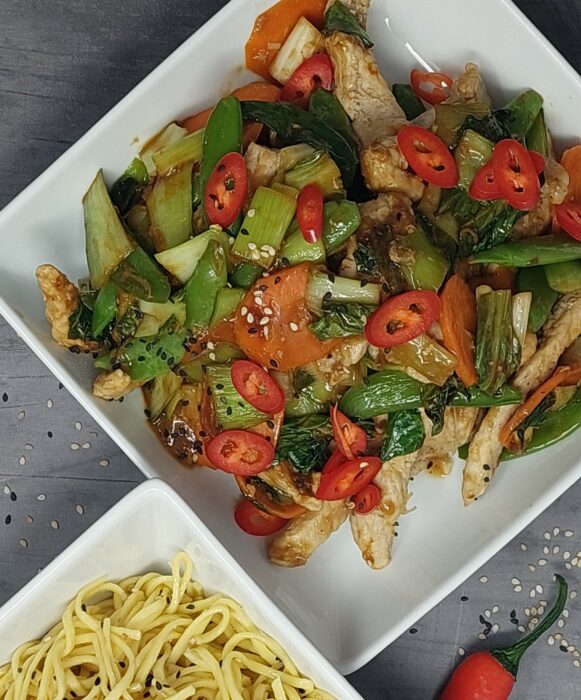 INGREDIENTS
500g Pork stir-fry strips
1 x thumb sized knob of ginger
3 x cloves garlic
Selection of fresh vegetables such
as pak choi, carrots, spring onion,
celery, baby corn or courgette
1 x red chilli
2 tsp seseame oil
2 Tbl soy sauce
2 Tbl rice vinegar
1 Tbl cornflour
75ml chicken stock or water
1 tsp sesame seeds
Sea salt
Pepper
Noodles or rice
METHOD
For the stir-fry
Peel and chop the vegetables so that they will all cook at the same time. Place them into a bowl and set aside. Grate the ginger and garlic and place in a wok with the sesame oil. Heat the wok to a high heat, stirring the garlic and ginger as the oil heats up. When hot, toss the meat into the wok and stir-fry until it's just cooked through. Once cooked, remove the meat from the pan and place it onto a plate or bowl and set aside. Add the vegetables to the pan and season with sea salt and pepper. Continue to stir-fry over high heat until the vegetables are coloured and cooked through. Return the pork to the pan and stir to combine. In a bowl or small jug, mix the vinegar, soy, stock/water and cornflour to form a runny sauce. Pour the sauce into the hot wok. The sauce will thicken instantly once it starts to boil and will coat the meat and vegetables.
To serve
Place the hot stir-fry into a bowl and finish with a sprinkling of
sliced red chilli and some toasted white and black sesame seeds. Serve with
either wok-fried noodles or some home-made egg fried rice.