THE PERFECT PAN-ROASTED DUCK BREAST
Serves: 1-2
Prep Time: 10 Minutes
Cooking Time: 20 Minutes plus resting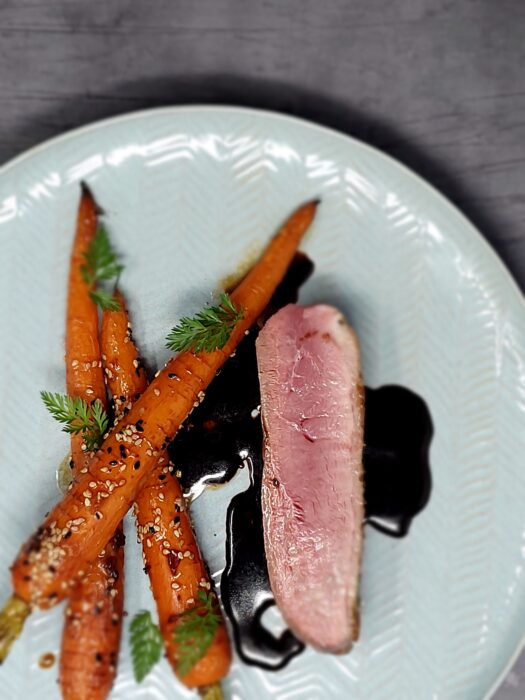 METHOD
Place your duck breast on a chopping board, skin side up. Gently score
the skin, being careful not to cut through to the meat below. Leave it out
reach room temperature.
Preheat your oven to 180c. Season the duck with sea salt and pepper
on both sides. Place a good, non-stick frying pan with a touch of oil,
on to a medium heat. Place your duck breasts, skin side down, into
the cold pan.
Gently fry the duck breasts, skin side down, for 8-10 minutes to
render out as much fat as possible and keep the skin crispy.
Periodically tip the fat from the pan into a little jar – keep it in the
fridge for your roasties!
Carefully flip the duck breasts over and place into the oven
Cook the duck for 8 minutes. Remove from the oven and rest
somewhere warm, uncovered, for a further 8-10 minutes.
Carve either length ways down the middle or into 5-6 slices width
ways.
Fabulous served with my sesame, soy and honey carrots and some wilted
Asian greens but equally good with some roasted root vegetables and a
glaze of orange marmalade or a nice rich red wine sauce.
Perfectly paired with a glass of New Zealand Pinot Noir