THAI-INSPIRED CHICKEN SALAD
Serves: 2
Prep Time: 15 minutes
Cooking Time: 15 minutes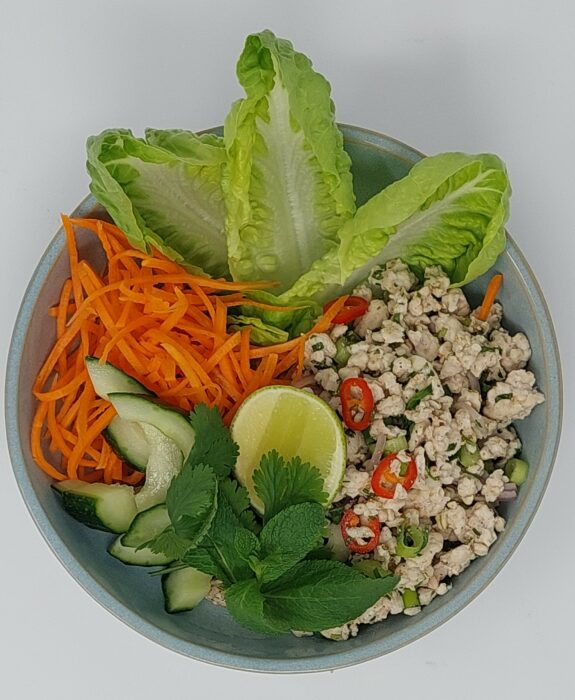 INGREDIENTS
500g Chicken Breast mince
Sea salt
Ground black pepper
2 Tbls jasmine rice
1/2 cup mint leaves
1/2 cup coriander leaves
2 Tbls fish sauce
2 Tbls lime juice
1 tsp demerera sugar
1 x large carrot
1/2 x cucumber
1 x red chilli
1 x shallot – thinly sliced
4 x spring onions – chopped
1x baby gem lettuce
Cooking oil
METHOD
For the dressing
In a small bowl, combine the sugar, fish sauce and
lime juice. Stir them together until the sugar has dissolved. Set aside
until required.

For the toasted rice
In a non stick pan, place the raw rice over a
medium heat. Dry fry the rice, stirring regularly, for 10-15 minutes until
the rice has toasted and is completely golden in colour. Place the hot
toasted rice into a mortar and pestle and grind to form a course powder.
Set aside until required.
For the chicken
Preheat a large frying pan or wok and add a touch of
cooking oil. Add the chicken mince and fry until cooked through. With
a wooden spoon, break the mince up as you are cooking it. Season towards the end of the cooking process with sea salt and ground pepper.
Once cooked through, add the chicken mince to a large mixing bowl. Add the red chilli, shallots, spring onions, herbs, toasted rice powder and
dressing and stir well to combine.
To Serve
Pull off 6-8 large baby gem leaves and set aside. Tear up the
remaining leaves and place them into the bottom of a salad bowl. Peel
and spiralize or julienne the carrots and set aside. De-seed and slice the
cucumber and set aside. Top the lettuce with the hot chicken and serve
the salad with the carrots, cucumbers and a wedge of lime. Place the
large salad leaves into the bowl so you can build your own lettuce cups.
Best served with some extra herbs and a touch more sliced red chilli.