The Perfect Dry-Aged Tomahawk Steak
Serves: Serves 2
Prep Time: 5 minutes
Cooking Time: 1 hour plus resting time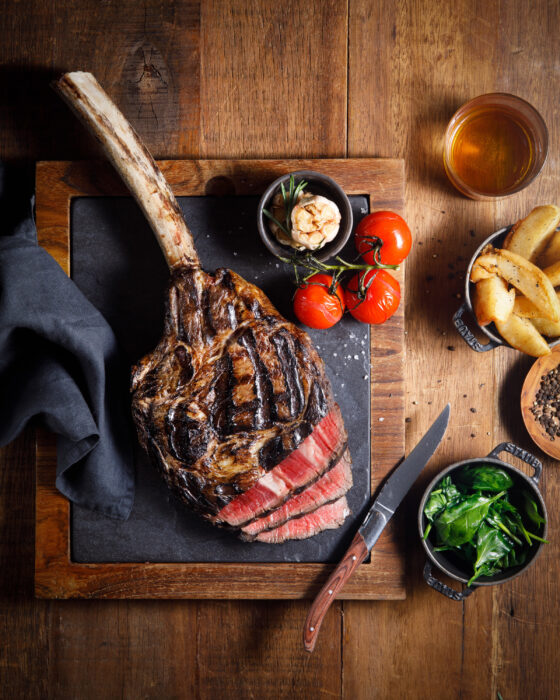 INGREDIENTS
1 x Dry-aged Tomahawk steak (approx 1kg)
Sea salt
Cracked pepper
50g Sublime flavoured butter
1 tablespoon olive oil
METHOD
Method
Remove your steak from the fridge to get to room temperature. Season liberally with sea salt and cracked pepper.
Preheat your oven to 230c. Leave the rack in the oven with a tray underneath. When your oven is red hot and your steak is at room temperature, oil it gently on both sides. Carefully place your steak directly onto the rack and back into the oven. Set the timer for ten minutes.
After ten minutes, reduce the heat to 190c. Set a timer for 25 minutes.
After 25 minutes check your steak. The internal temperature of the meat (check in the thickest part of the muscle) should reach 55c. Remove from the oven and top with 50g of Sublime flavoured butter – I would recommend either the Truffle and Himalayan pink salt or the Bearnaise flavour.
Rest somewhere warm for 10-12 minutes.
To serve, remove your steak from the bone with sharp knife. Carve your steak into 8-10 slices and drizzle over any melted butter and steak juice.
I recommend serving this beautiful steak with my Naughty jacket potatoes and a really punchy dressed salad.