THE PERFECT ROASTED OUTDOOR BELLY PORK
Serves: 4-6
Prep Time: 20 minutes
Cooking Time: 3 Hours plus resting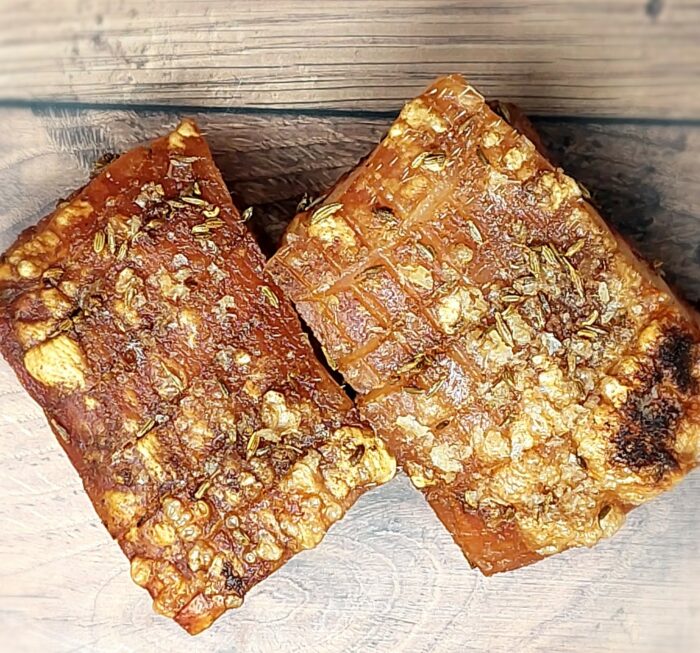 INGREDIENTS
1 x Yorkshire Outdoor reared pork
belly joint or 4 pork belly squares
1 x onion – chopped
1 x carrot – chopped
2 x sticks celery – chopped
2 x cloves garlic – crushed
300ml water or cider
Sea salt
1/2 tspn fennel seeds
1/2 tspn cumin
2 Tbls rapeseed oil
METHOD
Preheat the oven to 180c. Remove the pork from the fridge and with a very sharp knife, carefully score the skin with a criss-cross pattern . Leave the pork out to get up to room temperature.
Drizzle the pork skin with olive or rapeseed oil and a good pinch of flaky sea salt, the fennel seeds and the cumin. Rub the oil and seasoning into all the cracks and score marks and season the meat itself with a touch more salt.
In a large roasting tin, scatter the chopped onion, carrot, celery and garlic.
Place the pork belly skin-side-up on top of the vegetables and place the tray in the oven. Roast the pork for 2 hours.
After the initial 2 hours, carefully remove the pork from the oven and add
300ml of water or cider to the roasting pan. Return the pork to the oven and reduce the heat to 160c. Cook for a further 1-1.5 hours.
Remove the pork from the oven – the meat should be tender and moist and the skin beautifully golden and crackly on top. If you feel the crackling is not sufficiently crunchy, drizzle a touch more oil on the skin and a pinch more salt and place under a hot grill for 2-3 minutes. Remove the pork from the oven or grill and rest for 15-20 minutes. Use the vegetables and juices in the pan for making the gravy or accompanying sauce.
Carve and serve with gravy or a creamy cider and mustard sauce, mash,
steamed greens and roasted British apples.