THE PERFECT ROASTED RACK OF PORK
Serves: 4-6
Prep Time: 1 hour
Cooking Time: 1 hour, 20 minutes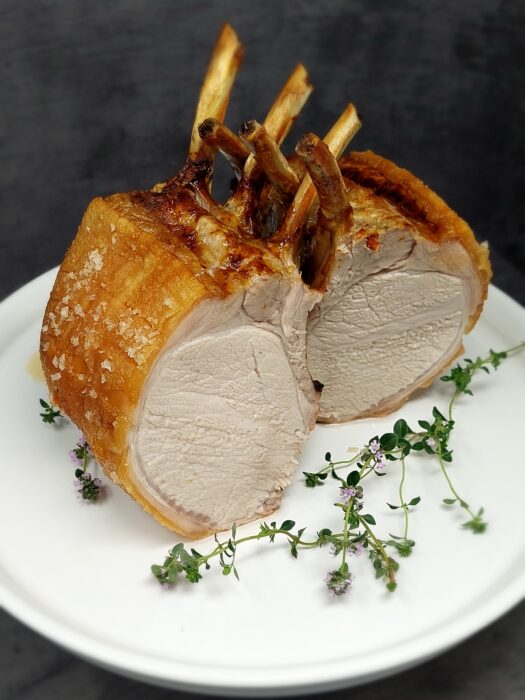 INGREDIENTS
1 x 6-Bone rack of pork (approx 2kg)
Sea salt
Table salt
Olive oil
METHOD
Method
Remove the pork from the fridge and dry thoroughly with a paper towel.
Season liberally with fine table salt and leave out for at least 1 hour to get to room temperature. Preheat your oven to 240c
Dry the pork again with a paper towel and brush away any excess salt.
Drizzle with the olive oil and sprinkle with flaky salt. Rub the oil and salt
completely over the pork and place into a large roasting tray.
When the oven has come up to temperature, gently place the tray inside and set the timer for 25 minutes.
After 25 minutes, reduce the heat to 190c and cook the pork for 20 minutes per 450g (total cooking time) – for example, a 2kg pork rack would be cooked for 88 minutes in total.
The pork should ideally reach an internal temperature of 68c. Once it has
done so, remove the pork from the oven and rest for a further 15-20 minutes.
Remove from the roasting tray and either take off the bone and slice or carve into chops. The pan juices can strained and reserved – the fat is great for roast potatoes and the juice below the fat can be added to enhance your gravy or sauce.