THE PERFECT STIR-FRY
Serves: 4
Prep Time: 20 Minutes plus marinating time
Cooking Time: 15 Minutes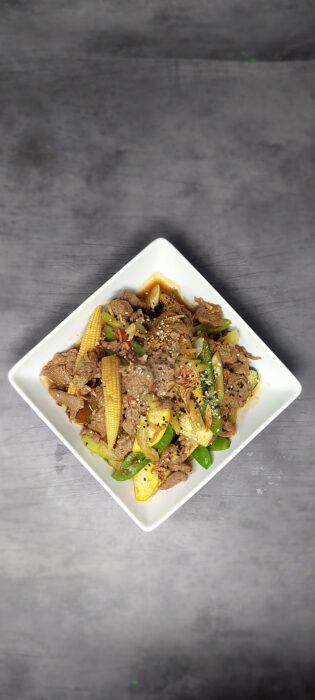 METHOD
Marinade – wherever possible, marinate your meat for at least a few hours or overnight if possible. Garlic, ginger, herbs, soy sauce, chilli, vinegar, seasoning and spices all work to flavour and tenderise the meat.
Oil – Make sure to use the correct oil for the wok. Sesame or peanut oil works best but a decent cooking oil or sunflower oil will do the job. Avoid olive oil at all costs as it will burn before it's hot enough to stir-fry.
Temperature – Stir-frying originated in China when there was a lack of fuel in the dark ages. The wok was invented so things could be cooked quickly at a high heat to help preserve the little fuel they had. Make sure the oil is smoking hot before you fry your meat but if you're starting with garlic and ginger first, start the frying process in cooler oil to avoid burning. Timings – Start by stir-frying your meat first. If you're using beef, sear it quickly and remove from the wok when it's still pink. Transfer it to a bowl or plate and keep it somewhere warm to add back to your cooked vegetables at the end. For chicken, pork or prawns, make sure they're cooked through first before removing them from the pan and setting aside while the vegetables cook. Add the meat back to the wok at the end to
warm back through – t's very important not to keep the meat in the pan while your vegetables are cooking as this will lead to dry, tough, overcooked meat every time.
Vegetables – Cut your vegetables to appropriate sizes or thicknesses so they all cook at the same time. Carrots and celery for example, will need to be cut thinner than courgettes because they take longer to cook. Things like pak choi, bean sprouts or thinly sliced cabbage can be added to the wok closer to the end to avoid them going sloppy.
Texture – adding some crunch at the end will add an extra dimension to your stir-fry. Some toasted sesame seeds, chopped peanuts or cashews, sliced fresh chillies or crispy fried shallots are great ways to add a last-minute pop of crunch to your plate. Colour – pick a variety of coloured vegetables to liven up your stir-fries. Not only will they add nutritional value, but they'll also put a bit of excitement into your midweek tea!
Sauce – it's all about the sauce! Soy, hoisin, oyster sauce, plum sauce, sweet chilli, sriracha, sweet soy, teriyaki or satay sauces are all available in your local supermarkets and should always be added towards the end of the cooking. There are also thousands of easy and authentic sauce recipes online which can be constructed in minutes and will add all sorts of pizazz to your stir-fries.
Seasoning – Like anything, your stir-fry needs salt and pepper through the cooking process. Whilst a lot of shop-bought sauces will have plenty of seasoning, a bit of salt and pepper sprinkled in at the start will offer a much tastier and well-rounded flavour rather than some un-seasoned, bland meat or vegetables sitting in a tasty sauce.