THE PERFECT YORKSHIRE LAMB RACK
Serves: 2
Prep Time: 10 Minutes
Cooking Time: 20-25 Minutes plus resting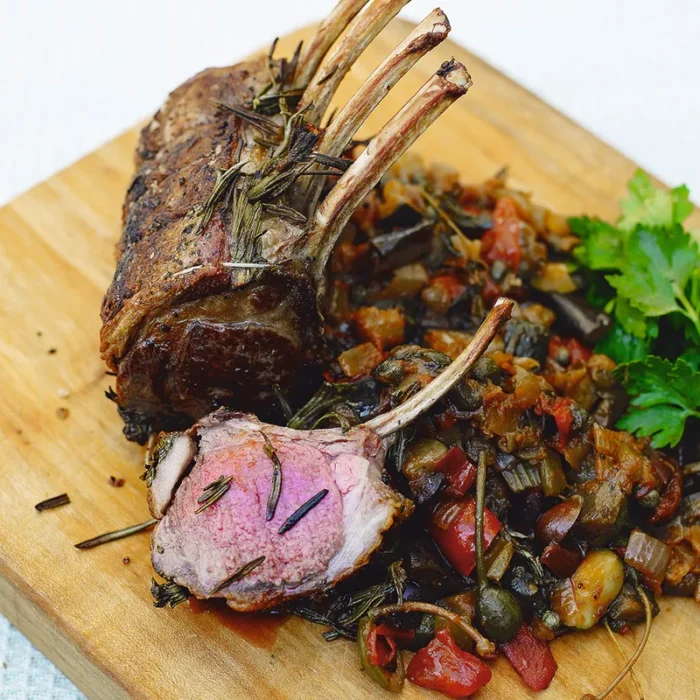 METHOD
Remove the lamb racks from the fridge and lightly score the skin in
a criss cross pattern. Leave them out for 30-45 minutes before
cooking to allow them to reach room temperature. Preheat the oven
to 190c.
Season the lamb racks with flaky sea salt and a twist or 2 of pepper.
In an oven-proof frying pan, drizzle a touch of olive oil and place
the pan on a medium heat. Once the pan is hot, place the lamb
racks fat-side down into the pan and reduce the heat to low. Add
the thyme and smashed garlic into the pan. Leave the lamb racks
skin side down for 6-8 minutes so the fat can render slowly and the
skin becomes crispy and golden. Seal the remaining surfaces briefly
and once the lamb has coloured nicely, place them into the oven for
16-18 minutes (for medium).
The internal temperature should be 57-60c which will mean the
lamb is beautifully pink. Leave the rack to rest in the pan in a warm
area for a further 8-10 minutes. Reserve any pan juices for the gravy
or sauce.

To serve
Carve the lamb into cutlets. Best served with some lovely
minted greens and honey roasted carrots.