TOMAHAWK with NAUGHTY JACKETS AND PUNCHY SALAD
Serves: 2
Prep Time: 25 mins
Cooking Time: 45 mins + resting time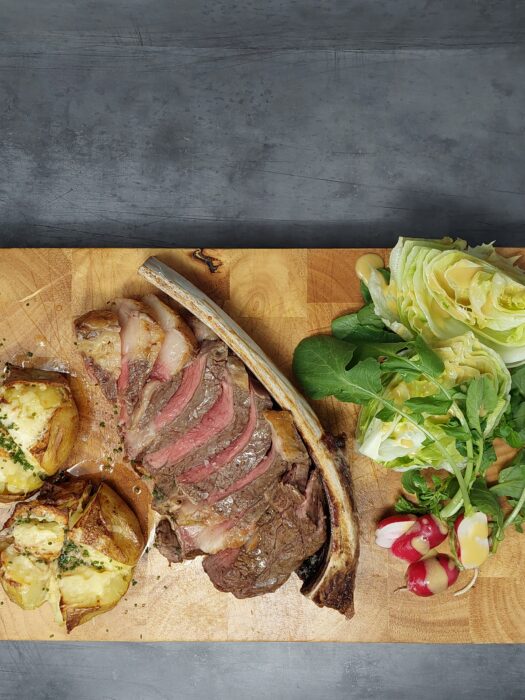 INGREDIENTS
1 x Tomahawk (as per recipe)
2 large baking potatoes
60g mature cheddar – grated
1 tablespoon red wine vinegar
3 tablespoons olive oil
1 tablespoon dijon mustard
1 iceberg lettuce
1 handful watercress
1 bunch of breakfast radishes
Sea salt
METHOD
Preheat your oven to 230c. Prepare your Tomahawk as per my Perfect
Tomahawk recipe.
For the potatoes
Prick your potatoes all over with a fork. Microwave them on high for five minutes. Carefully turn them over and heat for a further 5 minutes. Let stand for 2 minutes. I find it best to do this step during the first ten minutes of the Tomahawk cook time.
When your potatoes have stood for 2 minutes, carefully cut a crisscross
into the top of each one. Using a clean tea towel, gently press down on
your potato to expose the flesh. Place your potatoes on the hot oven tray directly underneath the Tomahawk to catch any fat and juice.

Whilst your potatoes are cooking, prepare your dressing. In a small jar
with a lid, place your red wine vinegar, olive oil, dijon mustard and a
pinch of salt. Shake vigorously until well combined. Set aside or keep
in the fridge until required.

When you remove your steak from the oven to rest, turn your oven to
grill. When your grill is hot and ready to go, pour any melted butter and resting juice into the flesh of your potato and top with the grated cheese. Grill until melted and golden. Top with chopped fresh chives. Rinse your lettuce and watercress and wash your radishes. Keep any small tender radish leaves on where possible – these are so peppery and delicious!
Dress gently
Once your steak has rested, carve and serve accordingly.
Enjoy!