Stuffed turkey breast with bacon lattice
Serves: Up to 12 people
Prep Time: 15 mins
Cooking Time: Approx 2 hrs 20 minutes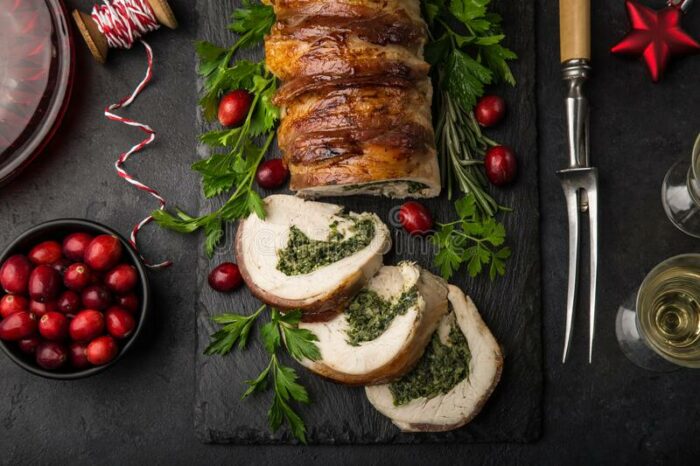 INGREDIENTS
¼ cup butter, softened
1 clove garlic, minced
1 teaspoon paprika
1 teaspoon Italian seasoning
½ teaspoon salt-free garlic and herb seasoning blend
salt and ground black pepper to taste
1 turkey breast stuffed with lattice Stuffed turkey breast with bacon lattice
1 teaspoon minced shallot
1 tablespoon butter
1 splash dry white wine
1 cup chicken stock
3 tablespoons all-purpose flour
2 tablespoons half-and-half (Optional)
METHOD
Method
Step 1 Preheat oven to 350 degrees F (175 degrees C).
Step 2 Mix 1/4 cup butter, garlic, paprika, Italian seasoning, garlic and herb seasoning, salt, and black pepper in a bowl. Place turkey breast with skin side up into a roasting pan. Loosen skin with your fingers; brush half the butter mixture over the turkey breast and underneath the skin. Reserve remaining butter mixture. Tent turkey breast loosely with aluminum foil.
Step 3 Roast in the preheated oven for 1 hour; baste turkey breast with remaining butter mixture. Return to oven and roast until the juices run clear and an instant-read meat thermometer inserted into the thickest part of the breast, not touching bone, reads 165 degrees F (65 degrees C), about 30 more minutes. Let turkey breast rest 10 to 15 minutes before serving.
Step 4 While turkey is resting, transfer pan drippings to a skillet. Skim off excess grease, leaving about 1 tablespoon in skillet. Place skillet over low heat; cook and stir shallot in turkey grease until opaque, about 5 minutes. Melt 1 tablespoon butter in skillet with shallot and whisk in white wine, scraping any browned bits of food from skillet. Whisk in chicken stock and flour until smooth. Bring to a simmer, whisking constantly, until thickened. For a creamier, lighter gravy, whisk in half-and-half.