TURKEY QUESADILLAS with GUACAMOLE and GREEN SALAD
Serves: 4
Prep Time: 20 Minutes
Cooking Time: 15 Minutes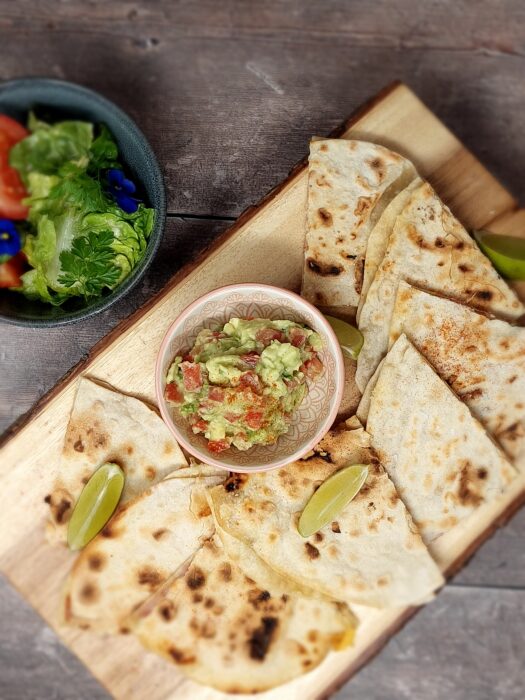 INGREDIENTS
8 slices Sykes cooked turkey
100g grated cheddar cheese
250g plain flour
150ml warm water
30g pickled jalapenos – diced
60ml olive oil
Sea salt
2 avocados
1 large tomato – diced
Small handful of coriander
2 limes
Cracked pepper
Salad leaves such as gem or iceberg
METHOD
For the tortillas – Mix together the flour, 2 tablespoons of olive oil,
150ml warm water and a pinch of salt. Knead for 5 minutes to form a
smooth dough. Set aside to rest for 30 minutes. Once rested, divide the
dough into 8 equal balls. Roll out on a floured board and dry-fry until
slightly charred and puffed up. Wrap in a clean tea-towel to keep
warm until required. These can be made the day before and
microwaved for 10 seconds to 'freshen up' when required.
For the guacamole – Remove the stones from the avocados and scoop
the green centre into a mixing bowl. Squeeze the juice from 1 of the
limes and smash the avocados together with the diced tomato, a good
pinch of salt and the chopped coriander. Cover tightly with clingfilm
and set aside in the fridge till required
To finish – Place a tortilla wrap on a board and top with 2 slices of
turkey, 25g of grated cheese and a sprinkling of diced jalapeno
peppers (if using). Top with another tortilla wrap and press down to
seal. Place the quesadilla into a dry frying pan and heat until the
quesadilla has become crispy and slightly charred. Flip over and
continue to cook until the cheese has melted and the tortillas are
completely crisp. Set aside in a warm oven while you cook the
remaining quesadillas. Serve with a big bowl of guac, plenty of lime
wedges and a simple green salad dressed with lime juice and a drizzle
of olive oil.