CLASSIC WALDORF SALAD with DUCK
Serves: 2 as light lunch (or 4 as a starter)
Prep Time: 10 mins
Cooking Time: 20 mins plus resting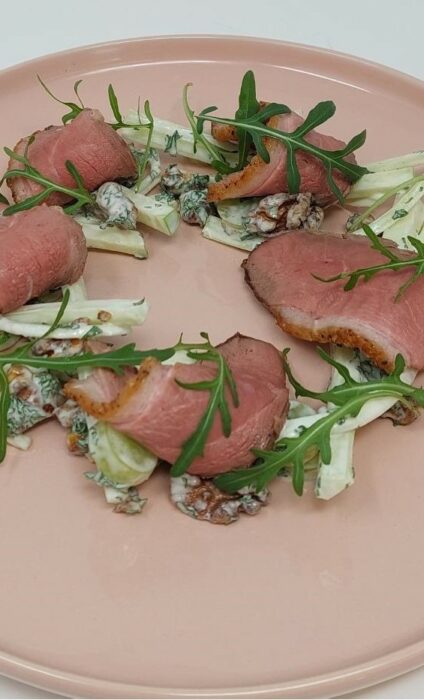 INGREDIENTS
1 x large Yorkshire duck breast
2 tablespoon mayonnaise
1 teaspoon lemon juice
Sea salt
Black pepper
1 x Granny Smith apple
8-10 grapes
1 x stick celery
10-12 walnut halves – toasted
Small handful parsley – chopped
Rocket leaves
Olive oil
METHOD
For the Duck
Preheat the oven to 180c.
Remove the duck breast from the fridge 20 minutes before you intend to cook it. Season the duck with sea salt and a twist of pepper and place it skin-side down into a cold pan. Gently cook the breast over medium heat for 8-10 minutes to crisp up the skin and render out the fat. Carefully drain some of the fat from the pan and flip the duck breast over. Place the duck breast into the oven for 8 minutes. After 8 minutes, remove the breast from the oven and rest for 10-15 minutes.
**For a cold salad, chill for 2-3 hours or overnight.

For the Dressing
In a small bowl or jug, mix together the mayonnaise, lemon juice and a good pinch of sea salt and pepper. Stir until combined. Set aside.

For the Salad
Peel and thinly slice the celery into sticks. Place in iced water for 15-20 minutes to curl slightly. Toast the walnuts over a medium heat and set aside. Thinly slice the grapes, discarding the end slices. Cut the apples
into 4mm sticks and set aside in a bowl with a small squeeze of lemon juice. Drain the celery and toss together with the grapes, toasted walnuts and apples. Dress lightly with the dressing and a good pinch of chopped parsley.

To Serve
Arrange the salad on plates. Thinly slice the duck and
gently drape it on top of the salad. Garnish lightly with some olive oil and dressed rocket.