YORKSHIRE BEEF with CARAMELISED ONION and HARROGATE BLUE MEATLOAF
Serves: 4-6
Prep Time: 20 Minutes
Cooking Time: 1 Hour and 20 Minutes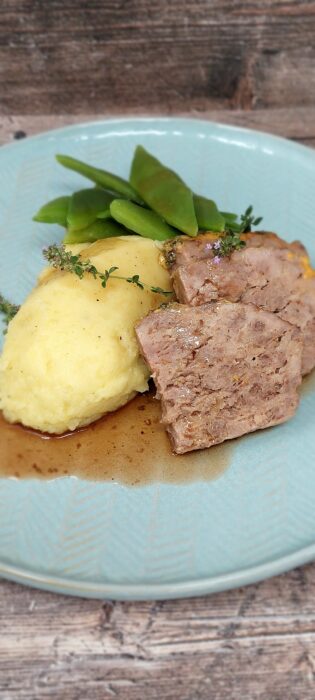 INGREDIENTS
500g Sykes Beef mince
1 x egg
Sea salt
Black pepper
15ml Henderson's relish
2 onions
20ml cooking oil
50g Harrogate Blue cheese
METHOD
For the caramelised onions
Slice the onions as thin as possible and place into a saucepan. Add the oil and a pinch of salt and fry on high heat with a lid on. Once the onions have started to sizzle, give them a stir, replace the lid and drop the heat to low. Cook the onions, stirring regularly, for 15-20 minutes until they have started to brown slightly. At this stage, remove the lid and continue cooking the onions until all the liquid has evaporated and they are sticky and brown in colour. Remove from the heat and set aside to cool.
For the meatloaf
Preheat the oven to 180c. In a large bowl or stand mixer, place the beef mince and sausage meat. Break them up to remove any lumps, add the caramelised onions and all of the remaining ingredients except the blue cheese. Mix or beat the ingredients together until well incorporated. Press the meat mix into a small oven tray or loaf tin and top with the crumbled-up blue cheese. Place the meatloaf in the oven for 35-40 minutes. When the loaf is cooked , the cheese should be melted and golden and the meatloaf cooked through. Stand for 5-10 minutes, remove from the tin and slice.
To serve
Once rested, carve your meatloaf into slices and serve with buttery mash, steamed seasonal vegetables and a rich red wine gravy.