SLOW COOKING TOP TIPS
Slow Cooking is a fantastic method
that ideal for beef, lamb, pork
and veal.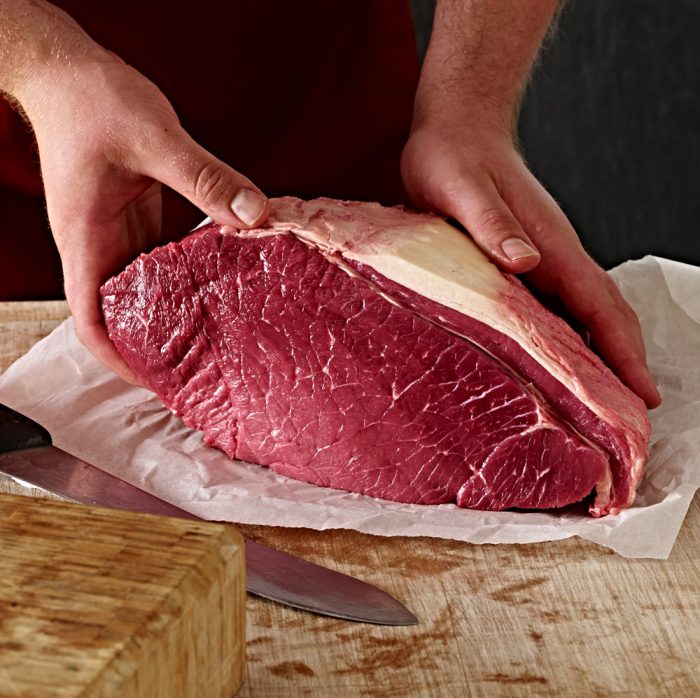 Slow Cooking is a fantastic method that can be used for just about any tender cut of beef, lamb, pork and veal. It involves searing the outside of the meat at a high temperature, and then roasting in a very low oven for a lengthy period. Any size of meat can be cooked using this method, even something as small as a steak. This method is often used on the Continent, where it is considered superior to conventional roasting as there's less drying of the meat and the juices are retained, so the meat stays moist and succulent with a more natural flavour. A meat thermometer is essential for good results.
COOKING IN 3 EASY STEPS
1. Prepare the meat and equipment
Before cooking, remove the meat from its vacuum packaging and pat dry with kitchen paper. Allow the meat to 'bloom' and come to room temperature for up to 30 minutes before cooking. Preheat the oven (with the fan turned off) to 80ºC and place a roasting tray in the oven to heat up. Heat a griddle or frying pan on high. Add a little olive oil to the pan, or brush the oil directly onto the meat to avoid using too much. Sear the meat on all sides for the recommended time to brown it all over. This will vastly improve both the flavour and appearance of your meat.
2. Using the meat thermometer
Season the meat with salt and pepper. (Do not season before searing as salt can suck the moisture out of the meat). Place the meat on the preheated roasting tray. Set the meat thermometer to the desired internal temperature (see table opposite), and insert the probe horizontally into the centre of the meat. Place the meat in the preheated oven with the thermometer cord through the door (the main unit remains outside). TIP: Always pre-heat the roasting tray as a cold one increases the cooking time. Do not be tempted to transfer the meat to the oven in the same pan used for searing, as this will make the meat cook too quickly.
3. The cooking process
Keep the oven door closed during cooking. Opening the door lets heat escape and increases the cooking time. When the thermometer beeps your meat is ready to serve straight away. There is no need to rest your meat as it has rested during the cooking process. The lower temperatures allow the meat juices to circulate continually during cooking so the meat stays incredibly soft and the joint is cooked more evenly. TIP: If your guests are late you can keep the meat warm at 60°C for up to an hour for large joints and 30 minutes for smaller cuts. If your oven does not have a setting as low as 60°C simply switch off the oven.
Meat
First sear in a pan on all sides
(total minutes)
Sykes recommended
internal temp.
Approx cooking
time at 80°c
Fresh Beef Delivery
Beef steaks 150g – 250g
2 – 3
60 – 65°c
45 – 60 mins
Mini Rump Roast Chateaubriand
4 – 5
60 – 65°c
60 – 90 mins
Centre Cut Fillet/Whole Fillet
6 – 8
55 – 60°c
1.5 – 2 hrs
Short Striploin/Topside
8 – 10
60 – 65°c
2.5 – 3 hrs
Lamb Delivery
Lamb Loins and Fillets
2 – 3
60 – 65°c
60 – 90 mins
Lamb Racks
5 – 6
60 – 65°c
60 – 75 mins
Lamb Short Saddle
6 – 8
60 – 65°c
75 – 90 mins
Whole Leg of Lamb
10 – 12
65 – 70°c
3.5 – 4 hrs
Whole Shoulder of Lamb
10 – 12
65 – 70°c
3.5 – 4 hrs
Pork
Pork Loin Steak
1 – 2
70 – 72°c
45 – 60 mins
Pork Chops
1 – 2
70 – 72°c
60 – 75 mins
Pork Fillet
4 – 5
65 – 70°c
1.5 – 1.45 hrs
Pork Loin Roast 475g
8 – 10
70 – 72°c
1.45 – 2 hrs
Pork Loin Roast 950g
8 – 10
70 – 72°c
2 – 2.5 hrs