CARIBBEAN INSPIRED GAMMON WITH RICE & PEAS, PINEAPPLE GLAZE & ROTI BREAD
Serves: 4-6
Prep Time: 40 Minutes
Cooking Time: 4 Hours plus glazing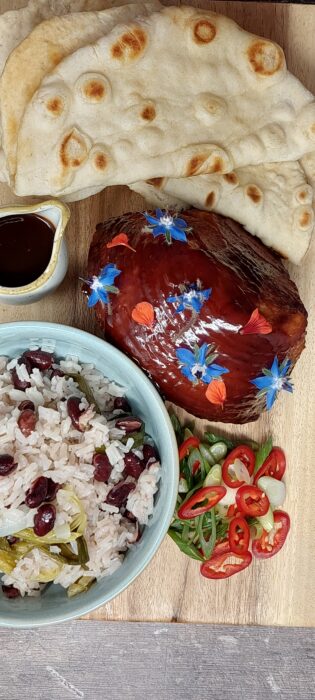 INGREDIENTS
1 x Sykes Horse-shoe gammon joint
1ltr pineapple juice
1 x knob of ginger – sliced
1 x scotch bonnet chilli
1 x small onion – diced
1 x carrot – chopped
1 x celery – chopped
1 x clove garlic
1 tspn ground Allspice
2 cups long grain rice
2 cups coconut milk
2 cups water
1 x can kidney beans – drained
4 x spring onions – split
2 x sprigs of thyme
2 cups plain flour
1/2 cup milk
1/2 cup warm water
2 tspn baking powder
Sea salt
20g butter
200ml ketchup
3 Tbls cider vinegar
3 Tbls Henderson's relish
3 Tblsp Brown sugar
1 Tbsp Soy sauce
METHOD
For the gammon
Place the gammon, onions, carrots, ginger, chilli, garlic, celery, pineapple juice and allspice into the slow cooker. Cook on high for 4 hours. Once cooked, remove the gammon from the pan and set aside in a tray with some of the cooking juice. Strain the remaining juice carefully into a jug or bowl and save 300ml – set aside. Pour the remaining juice over the gammon to keep moist until you are ready to glaze.
For the glaze
Pour the 300ml of reserved ham stock into a saucepan. Add the ketchup, cider vinegar, Henderson's relish, brown sugar and soy and whisk until smooth. Bring the glaze to the boil and reduce the heat to a simmer. Reduce the sauce by half – it should thicken and become glossy. Set aside until required.
For the rice & peas
Preheat the oven to 180c. Place the coconut milk and 2 cups of water into a large sauce pan and bring to the boil. Place the rice into an oven proof dish or tray with the thyme and the spring onions. Pour the hot liquid into the tray with the rice and add a pinch of salt. Add the drained kidney beans and cover tightly with foil. Place the tray into the oven and cook for 25 minutes. Remove the tray from the oven, remove the foil and stir the peas and rice to fluff up. Set aside until required.
For the roti bread
In a bowl, place the flour, a pinch of salt and the baking powder. Mix together the milk and 1/2 cup of warm water. Add to the dry ingredients to form a loose dough. Knead in the bowl for 2-3 minutes or until the dough is smooth. If it feels wet, add a touch more flour. Set the dough aside for 30 minutes to rest. After resting, divide the dough into 8 even balls. Heat a large frying pan or skillet.
On a floured surface, roll the balls into large discs, approximately 3mm thick. Dry-fry each disc until bubbles appear. When they are nicely coloured on one side, flip them and cook the other side. Place a small knob of butter on each flatbread to melt as they cook. Once cooked on both sides, set aside in a clean tea-towel and begin cooking the next one. Keep the breads warm in the tea-towel until required. These can be cooked in advance and frozen until needed.
To serve
Preheat the oven to 180c. Place the gammon into a large oven tray and pour the glaze over. Bake for 30 minutes, basting regularly, or until the glaze is sticky. Warm your breads and reheat your rice if necessary. Serve pulled or sliced with fresh chopped chilli and spring onions and any extra glaze that is left in the tray.