CHINESE CHICKEN CURRY with SALT & PEPPER CHIPS
Serves: 2
Prep Time: 20 Minutes
Cooking Time: 45 Minutes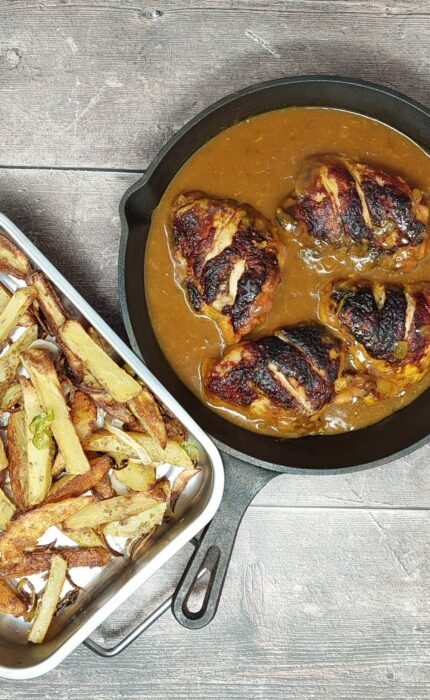 METHOD
For the chicken curry
In a large frying pan, heat 1 teaspoon of cooking oil. Gently brown the chicken thighs to render out some of the fat. When coloured, remove the chicken from the pan and set aside on a plate. Reserve any fat – this can be used for the chips later.
Return the pan to the heat and add the onions, garlic and ginger. Fry
for 5 minutes until the onions have coloured slightly. Add the curry
powder and tumeric and fry for a further minute until the spices have
toasted. Add the chicken stock to the pan and bring to the boil. Return
the chicken thighs to the pan and add the soy sauce, cover with a sheet of
greaseproof paper and reduce the heat to a simmer. Simmer for 45
minutes or until the chicken has cooked through and is coming away
from the bone. Remove the chicken thighs to rest and bring the sauce
up to a steady boil. Mix the cornflour with some cold water to form a
slurry. Whilst boiling, gently stir some of the slurry into the pan to
thicken the sauce. When the sauce has thickened to the desired
consistency return the chicken to the pan and serve.
For the chips
Preheat the oven to 200c and place the oven tray inside. Peel the potatoes and cut into 1cm chips. Rinse the chips under cold water and dry in a colander. In a large plastic zip-lock bag place the potato chips, the flour, a good pinch salt and black pepper. Seal the bag and shake it to coat the chips in the seasoned flour. Dust off any excess flour and set aside ready for the oven. When the oven is hot, remove the tray and drizzle with the set-aside chicken fat. Add the chips to the tray and cook in the oven for 25 minutes, shaking the tray regularly. In a small dish, mix a good pinch of salt and pepper and a pinch of sugar together. When the chips are crispy and cooked through, remove them from the oven and season liberally with the
sugary salt and pepper mix.