GRILLED GAMMON with ROAST PINEAPPLE and DEVILLED FRIED EGGS
Serves: 4
Prep Time: 20 Minutes
Cooking Time: 1 Hour and 10 Minutes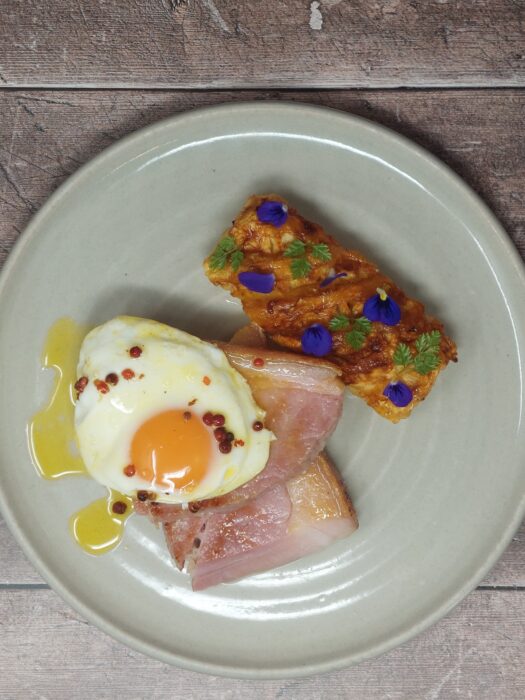 METHOD
For the Pineapple
Preheat the oven to 190c and place an oven tray inside to heat up. Using a sharp knife, carefully top and tail the pineapple and remove the skin. Remove the 'eyes' of the pineapple with the tip of a knife or carefully cut the 'eyes' out by cutting diagonal grooves either side of the lines of eyes and pulling them out. Mix together 20g softened butter and the brown sugar to form a paste and smear this over the pineapple. Carefully place into the oven and roast for 1 hour or until tender, basting every 10-15 minutes with the melted butter and the pineapple's juices. Once cooked, remove from the oven and set aside.
For the Gammon
In a hot pan or griddle, sear the gammon steaks and cook for 4-5 minutes on each side. Remove the steaks from the pan and rest somewhere warm for 3-4 minutes.
To serve
In a shallow frying pan, melt the remaining butter with a touch of rapeseed oil. Gently fry the eggs sunny side up, basting with the hot butter. Once the eggs are almost cooked, toss the pink peppercorns and chilli flakes through the butter and baste the eggs to finish them. Cut the gammon steaks in half, place on a plate and top with the fried eggs and spicy butter. To reheat the pineapple, cut into long quarters and remove the core. Toss the pineapple in the gammon pan with any remaining gammon and pineapple juices to glaze. Serve alongside the egg-topped gammon.