ONE-PAN HASH with SAUSAGE, BACON, EGGS, PAPRIKA & CHILLI
Serves: 4
Prep Time: 15 mins
Cooking Time: 30 mins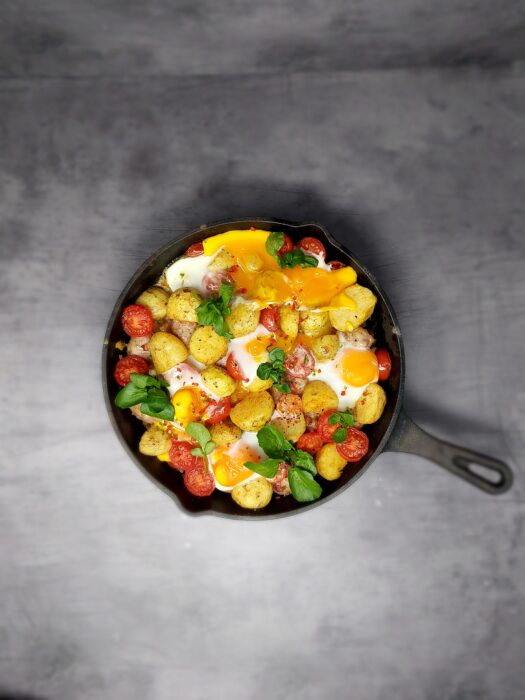 INGREDIENTS
8 x farm sausage
8 x rashers Sykes dry cured back bacon
1 small onion – finely diced
1 tablespoon olive oil
1 tablespoon butter
Sea salt
Cracked pepper
1 teaspoon hot smoked paprika
300g leftover cooked potatoes
200g button mushrooms (optional)
8 x free range eggs
1 red or green chilli – finely diced
Watercress to garnish
METHOD
M E THO D
Preheat your oven to 180c. In a large cast iron skillet or oven-proof frying pan, heat the oil and butter and gently fry the bacon and onion until slightly coloured and soft. Squeeze balls of sausage meat straight from the skin into your frying pan and colour slightly.
In the pan, add the leftover potatoes. Toss in the oil and butter. Add your
halved tomatoes to the pan and season with salt, pepper and a good sprinkling of hot smoked paprika. Transfer the pan to the oven and cook for 15 minutes or until the sausage is almost cooked through and the tomatoes are beginning to break down.
Remove your pan from the oven and gently crack 8 eggs on to the top. Try and keep as many yolks whole as possible. The whites may run down into the hash, this is fine. Return to the oven for a further 8-10 minutes to cook the egg whites. When the whites are almost cooked but the yolks are still runny remove the pan and set to stand for 10 minutes. This will allow the egg whites to continue cooking in the residual heat. The yolks should remain runny.
To finish add some finely diced red and green chilli, a light dust of paprika and some peppery watercress. Best served with fried bread and lashings of brown sauce!