OVERNIGHT BEEF CHEEKS with TRUFFLE MASH & PORTER GRAVY
Serves: 4
Prep Time: 40 mins
Cooking Time: Overnight + 40 mins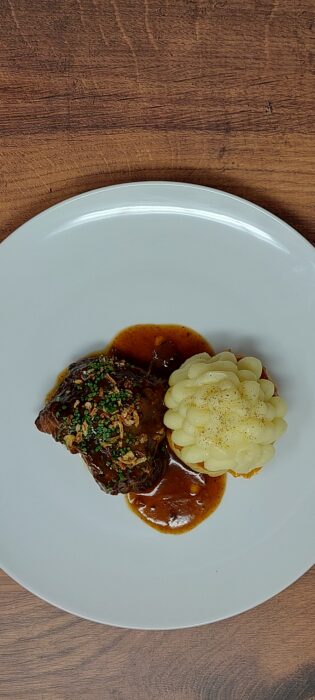 INGREDIENTS
2 trimmed ox cheek
1 x carrot – diced
1 x onion – diced
1 x celery – chopped
1 x bay leaf
1 x sprig of thyme
2 x garlic cloves – crushed
1 Tbls oil
1 x bottle of Porter or Stout
300ml beef stock
30g plain flour
800g x mashing potatoes
40g butter
20ml truffle oil
2 Tbls cornflour
Sea salt
Black pepper
METHOD
For the beef
Remove the ox cheeks from the fridge and place into a large mixing bowl with the flour. Season well and coat with the flour.
Dust off the excess and discard the flour. In a large frying pan, brown
the cheeks until the are a deep brown, add them to the slow cooker.
Add the carrots, onions, celery, garlic, thyme, bay, beer and beef stock
and set the slow cooker on low. Cook for 8 hours or overnight. When
the beef cheeks are almost falling apart, gently remove them with a
slotted spoon and place them on a plate – try to keep them in large
chunks or whole if possible. Set them aside.
Carefully strain the stock through a sieve into a saucepan, pressing as much of the juice and flavour from the vegetables and herbs. Bring the stock to the boil and thicken to your desired consistency with the cornflour mixed with a little cold water. Break the cheeks into equal portions and reheat in
the gravy.

For the mash
Wash and peel the potatoes. Place in a large saucepan and cover with cold water and a large pinch of salt. Bring the pan to the boil and simmer the potatoes until tender but not falling apart.

Drain the potatoes and return to the pan. Place the pan on a low heat
for 2-3 minutes to dry the potatoes out. Mash the potatoes with cubes
of butter and the truffle oil until smooth. Season with sea salt and a
little pepper – add some milk to loosen the mash if required. Set aside
until required.