SYKE'S OWN PORCHETTA with FENNEL & CIDER SAUCE
Serves: 4
Prep Time: 20 mins
Cooking Time: 2 hours + resting time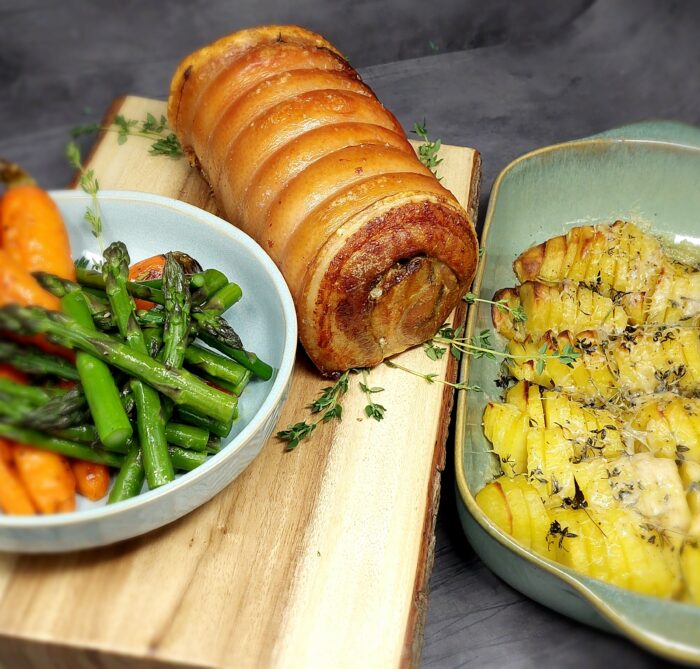 INGREDIENTS
1 x Syke's Porchetta
1 teaspoon fine sea salt
2 tablespoons olive oil
Flaky sea salt
Small bunch of Italian herbs -thyme,
rosemary, sage or oregano
1 large onion – peeled chopped
2 cloves garlic – peeled and smashed
300ml cider
300ml single cream
1 bay leaf
METHOD
Remove the pork from the fridge and dry thoroughly with a paper towel.
Season liberally with fine sea salt and leave out for at least 1 hour to get to
room temperature. Preheat oven to 240c.

Dry the pork again with paper towel and brush away any excess salt.
Drizzle with the olive oil and sprinkle with flaky salt. Rub the oil and salt
completely over the pork skin then place the onions, garlic and herbs (except the bay leaf) into the bottom of a large roasting tray. Put a cooling rack on top of the onions. Sit your pork on top of the rack and place into the hot oven and set a timer for 30 minutes.

After 30 minutes drop the heat to 160c and cook the pork for a further 1 hour 30 minutes. Once cooked, remove from the oven and rest for 20 minutes. After 20 minutes, place the pork onto a plate and continue to rest somewhere warm. Next drain the onions and juices through a sieve, keeping the juices aside. Return the onion mix to the roasting tray with the bay leaf and place the tray onto a hob then carefully add the cider.

Using a wooden spoon, remove any brown or charred bits from the tray – this will add flavour and colour to your sauce. Reduce the cider by 2 thirds.
Separate the fat from the pork juices and set aside (this can be used for roasts in the future). Add the remaining cooking juices to the cider and reduce by half. Add the cream and any further resting juices and reduce to a sauce consistency. Pass through a sieve. Season to taste.
Your pork crackling should be lovely and crispy. If it is not then return the cooked pork to a very hot oven (240c) for a further 5-10 minutes to crisp.

Carve and serve with my Italian inspired roasties and some buttery green
vegetables like Yorkshire asparagus or cavolo nero!