ROAST CHICKEN with YORKSHIRE PUDDS, ROAST POTATOES, and TENDERSTEM BROCCOLI
Serves: Serves 4-6
Prep Time: 20 mins
Cooking Time: 1 hour 50 minutes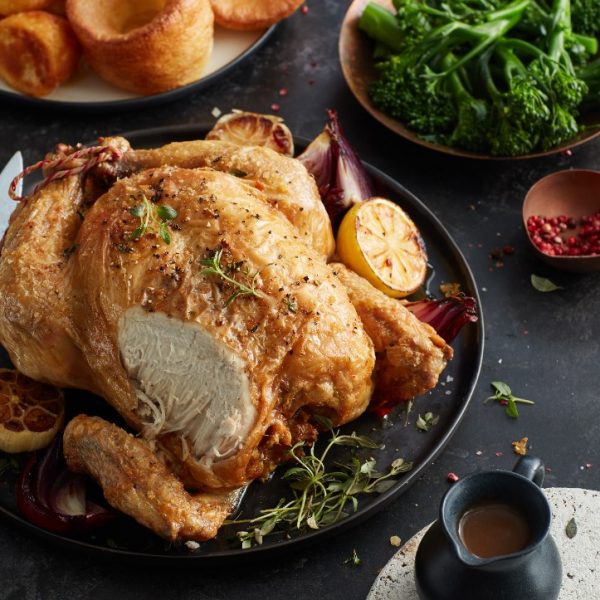 INGREDIENTS
1 large Soanes chicken Yorkshire High Welfare Barn Reared Whole Chicken
1 lemon, cut in half
2 red onions, quartered
Bunch of thyme, chopped
Salt and pink peppercorns, crushed (black
pepper is perfectly fine if you can't get pink peppercorns!)
75ml whole milk
75g plain flour
3 eggs
Vegetable oil
1kg red skinned potatoes
400g Tenderstem broccoli
METHOD
For the Chicken
Preheat the oven to 220C, 200C Fan, Gas 7. Rub the Soanes chicken with oil, salt, pepper and thyme leaves. Insert the two half lemons into the cavity of the chicken. and place in a large roasting tin. Scatter the onion quarters around the chicken and put in the oven to cook for 1hr 50mins. Check after 1hr and cover with foil or reduce the temperature to 180C if the skin is getting too dark. The chicken is cooked once its core temperature reaches 75C or the juices run clear.
For the Yorkshire Puds
Whisk together the eggs and flour in a large bowl until smooth then add the milk, salt and pepper. Whisk again until smooth, then set aside in the fridge.
Peel the potatoes and cut into halves, place in a pan of cold, salted water and bring to the boil. Reduce the heat and simmer for 15 mins, drain and leave in the colander until completely dry. A handy hint here is to tip the potatoes into a clean, empty sink. This increases the surface area and allows them to cool faster and dry better.
Place another deep roasting tray with oil, salt and pepper into the oven and leave to heat up for 10 mins.
Fill each pocket of a muffin tray 1/3 full with vegetable oil and place on the bottom shelf of the oven to heat up.
Once the potatoes are dry, when there is about 50mins left for the chicken, add the potatoes to the empty tray, toss lightly in the oil and season with salt. Roast the potatoes for 50 mins.
When the chicken has been in for 1hr 50 mins remove from the oven and cover in foil, leave to rest for 30 mins.
Fill the heated muffin tray pockets with the Yorkshire pudding mix and place in the middle of the oven for 25 mins or until deep brown and golden. Do not open the oven for at least 20 mins!
Boil a pan of water and add salt to the water, boil the Tenderstem broccoli for 8-10 mins until tender. Drain and serve.
Serve the carved chicken, potatoes and Yorkshire pudding with your favourite gravy.