SYKES KOFTA with BEETROOT HUMMUS, FLATBREADS and PISTACHIO DUKKAH
Serves: 4
Prep Time: 40 Minutes
Cooking Time: 45 Minutes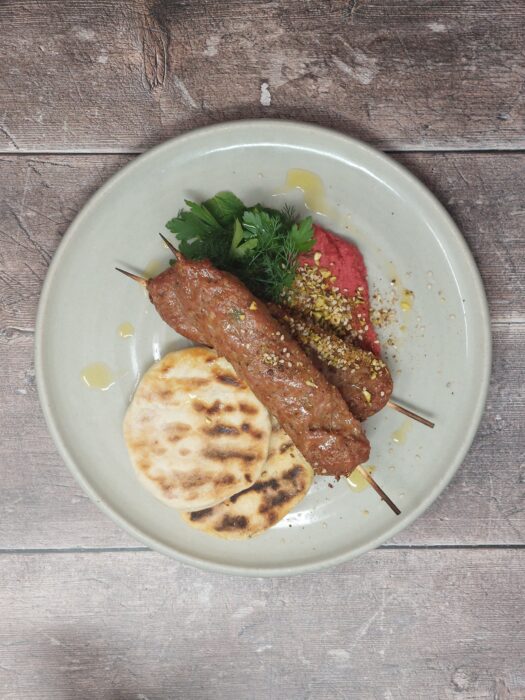 INGREDIENTS
8 x Sykes House farm lamb koftas
60ml olive oil
1 cup cooked chickpeas
3 x small cooked beetroot – chopped
2 cloves garlic
1 x lemon
1/2 tspn cumin
1/2 tspn sumac
1 Tbls pistachio – chopped
2 tspn sesame seeds – toasted
150g natural yoghurt
150g self raising flour
1/2 tspn bicarbonate of soda
Sea salt
A handful of fragrant herbs such as
mint, dill, coriander or flat parsley
METHOD
For the flatbreads
In a bowl, mix together the yoghurt, flour, 10ml olive oil, the bicarb and a pinch of salt. Knead together to form a smooth dough – add a touch more flour if the dough feels a touch sticky. Clingfilm the dough and set aside for 30 minutes. Cut the dough into 8 balls. On a floured surface, roll each ball out flat and dry-fry the discs until slightly charred, puffed up and cooked through. Set aside until required.
For the hummus
Drain the chickpeas and place them into a jug or bowl, reserving 2 tablespoons of the cooking liqour. Add the chopped garlic, 45ml olive oil, the beetroot, juice of half a lemon and a pinch of salt. Blitz until smooth – adding a touch of cooking liquor to loosen the puree. Set aside until required.
For the dukkah
In a mortar and pestle, gently smash together the pistachios, sesame seeds, cumin, sumac and a pinch of salt until you achieve a fine crumb. Set aside until required.
To serve
Preheat your grill to 230c and place a tray underneath to heat up. Bring the kofta out of the fridge to get to room temperature.
Lightly oil the kofta with the remaining oil and place them under the grill.
Grill for 5-6 minutes on each side or until golden brown and cooked
through. Rest for 3-4 minutes. Spread a smear of hummus on your plate and top with the flatbreads, koftas and a good sprinkle of the crunchy dukkah. Serve with a fresh herb salad and a drizzle of lemon
juice.