TANDOORI CHICKEN SKEWERS with PILAF RICE and CUCUMBER SALAD
Serves: 4
Prep Time: 20 mins
Cooking Time: 45 mins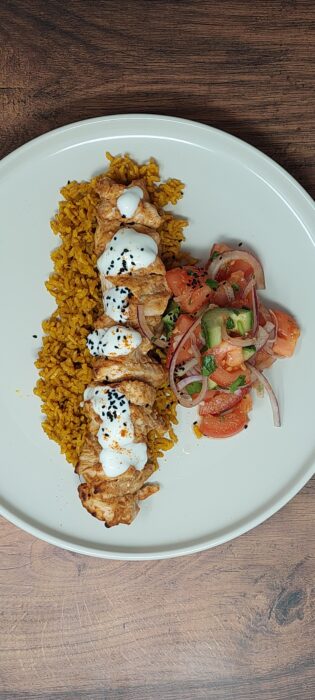 INGREDIENTS
4 x Chicken fillets
1 x lemon – zest and juice
4 Tbls Fat free natural yoghurt
2 tsp Tandoori spices
1/2 Cucumber – de-seeded
4 x tomatoes
1 x red onion
1 tsp Cumin
Small bunch coriander
Sea salt
Black pepper
1 x cup brown rice
2 x cups chicken stock
1 Tbls Tumeric
2 x cloves garlic – crushed
1 tspn onion seeds
METHOD

For the chicken
In a non-metalic mixing bowl, place 3 tablespoons of the yoghurt, the juice of half a lemon, the tandoori spice, the garlic and a good pinch of salt. Mix to form a marinade. Next thinly slice the chicken into flat pieces and add to the marinade. Toss to coat and leave for at least 4 hours or overnight.
After marinating, evenly skewer the meat onto 4 metal skewers and set aside ready to cook. Preheat the oven to 220c and place a non-stick baking
tray inside. Once the baking tray is hot, place the skewers onto the tray and cook for 12-15 minutes or until coloured and cooked through.
Rest for 3-4 minutes before serving.

For the rice
Preheat the oven to 180c and in a small baking tray or oven dish, place the brown rice, the tumeric and a good pinch of salt and pepper.
Bring the chicken stock to the boil and pour over the rice. Cover tightly with foil and place into the oven for 40 minutes. After 40 minutes, remove the rice from the oven. Remove the foil, fluff up the rice with a fork and set aside to serve when required.

For the salad
De-seed and slice the cucumber and place it into a salad bowl. Roughly chop the tomatoes and thinly slice the red onion. Add them to the bowl with the cucumber. Add the juice of half a lemon, onion seeds, the cumin, chopped coriander and a good pinch of salt and pepper. Gently toss to combine and set aside at room temperature until required.

To serve
Best served 'family style' in the middle of the table with the remaining yoghurt. For ease, you can remove the chicken from the skewers and drizzle them with the yoghurt. Finish with a pinch of tandoori spice and
some extra onion seeds.