ULTIMATE ROAST CHICKEN with APRICOT & PISTACHIOS
Serves: 4
Prep Time: 20 Mins
Cooking Time: 1 Hour 40 Mins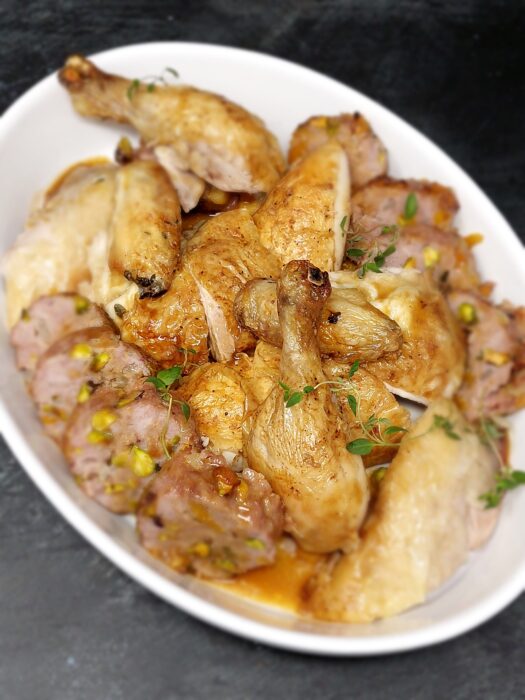 INGREDIENTS
1 Soane's Grain fed Free Range
chicken (approx. 1.4kg)
1 lemon – cut in wedges
1 small bunch of thyme
20ml rapeseed or olive oil
20g butter
1 carrot – peeled and diced
500g Farm sausage meat
75g dried apricots – chopped
2 onions – finely diced
1 tablespoon butter
Handful of shelled pistachios –
roughly chopped
1 glass dry white wine such as
Sauvignon blanc or chardonnay
3 cloves garlic – crushed
1 bay leaf
2 tablespoons flour
400ml chicken stock
Sea salt and white pepper
1 teaspoon Vegemite or Marmite
METHOD
For the chicken
Remove the chicken and butter from the refrigerator an hour before you begin cooking. Preheat oven to 190c fan. Peel and dice an onion and a carrot and put them in a pile into the bottom of a heavy roasting tray. Add a bay leaf, a clove of garlic and a few sprigs of thyme.
Take your softened butter and rub it all over your chicken – get it into as many nooks, crannies and crevasses that you can find then drizzle with oil and season liberally. Cut the lemon into wedges and insert inside the chicken's cavity, as well as another sprig of thyme. Place the chicken on top of the chopped vegetables – this will help the hot air circulate under your chicken for even cooking.
Place your chicken into the oven and roast for 1 hour and fifteen minutes or until the chicken has reached 68c. When cooked, pull the chicken gently out of the oven and rest on a plate somewhere warm for at least 20 minutes. The chicken will continue to cook to a temperature of 75-80c once rested
For the stuffing
While the chicken is roasting, gently sweat the remaining diced onions until translucent and soft in the butter. Once cooked, place into a mixing bowl and leave to cool. Next, add the apricots, pistachios and sausage meat to the cooled onions and mix together.
Form the mixture into 2 large thick sausages. Add the stuffing 'sausages' to the roasting tray and cook for approximately 25 minutes or until cooked through and nicely coloured. This can be done while the chicken is resting. Once cooked, remove and cover with tinfoil to keep warm
For the gravy
Carefully drain any cooking juices in the roasting tray into a jug or bowl. Place the roasting tray with the vegetables directly on a hot hob and add the flour. Cook, stirring continuously, for a further 2-3 minutes. If it catches a little this is fine – just be careful not to burn it! Add the wine and, using a wooden spoon, scrape any caramelised residue from the bottom of the tray– this will add colour and depth to your gravy.
Add Vegemite/Marmite and chicken stock then reduce until the gravy is the desired consistency – some like it thicker than others! Season accordingly, strain into a saucepan and set aside.
To serve
Once rested, remove the lemons from the chicken and carefully squeeze any remaining juice into the jug with the reserved roasting juices. Gently tip the chicken up to drain any further juices into the jug. Remove as much fat as possible from these juices and add them into your gravy and reheat.
Carve your chicken and place on a large serving dish with slices of stuffing. Drizzle a little gravy over the meat to keep moist and serve the remaining gravy in a jug on the side. Great with proper roasties and buttery seasonal greens!