PAN-ROASTED PORK FILLET with PESTO and BACON PASTA BAKE
Serves: 3-4
Prep Time: 20 minutes
Cooking Time: 50 minutes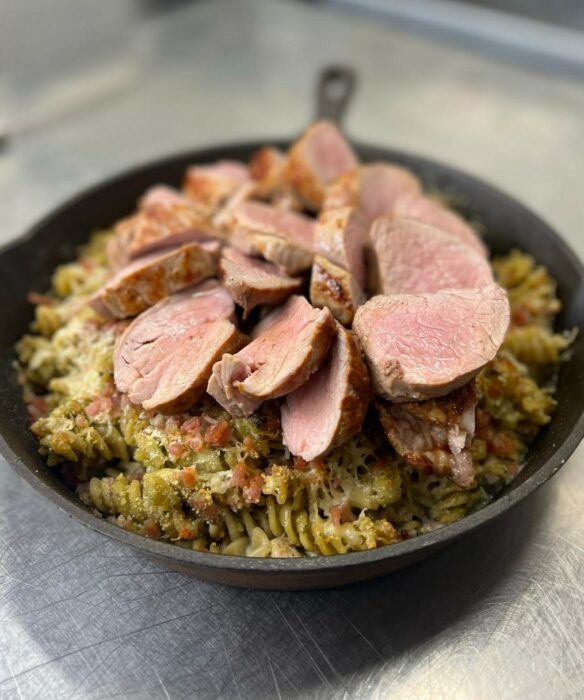 INGREDIENTS
1 x Pork fillet
6 x slices Sykes dry cure bacon
1 x small onion – diced
Olive oil
2 x cloves garlic – crushed
Creme fraiche
2 Tbls pesto
250g dried pasta
2 Tbls bread crumbs
Sea salt
Pepper
30g parmesan cheese – grated
METHOD
For the crumb
Preheat the oven to 200c. On a non stick tray, place 2 slices of the bacon and bake it until crispy. Remove the bacon from the tray and cool. Finely chop the bacon to form a crumb. Place the crumb into the bowl with the breadcrumbs and 15g of finely grated parmesan. Mix them together and set aside until required.
For the pasta
Preheat a non-stick frying pan onto a medium heat. Finely chop the remaining bacon and place it into the pan with the chopped onion and crushed garlic. Saute until the bacon is cooked and the onions are translucent. Remove from the heat and set aside.
Bring a large saucepan of salted water to the boil. Add 1 tablespoon of olive oil to the water and cook the pasta to the manufacturers instructions. When cooked, drain the pasta quickly before placing it back into the saucepan. Be careful to retain a touch of the starchy, oily pasta water in the pan to help form the sauce. While the pasta is still warm, carefully stir in the creme fraiche, cooked bacon and onion, pesto and the remaining grated parmesan. Season with sea salt and cracked pepper. Place the creamy pasta into a baking dish or oven proof pan and top with the bacon and parmesan crumb. Set aside at room temperature to reheat when required.
Preheat the oven to 190c. Place the pasta bake into the
bottom of the oven to heat through. Remove the pork fillet from the fridge. Place a large oven-proof frying pan onto high heat. Season the pork with sea salt and pepper. Add a touch of cooking oil to the pan and sear the fillet on all sides until golden brown. Place the pork fillet into the oven and roast for 15-18 minutes or until the pork is slightly underdone and just pink. Remove the pork to rest for 5-6 minutes while the pasta continues to heat through. When the pasta has heated through and the crumb is golden brown, carefully remove the bake from the oven.
To serve
Carve the pork fillet into slices and place it on the top of the bake. Pour any resting juices over the top and serve while piping hot!