BEER-BRAISED BEEF SHORT RIBS
Serves: Serves 4
Prep Time: 15 minutes
Cooking Time: 6 hours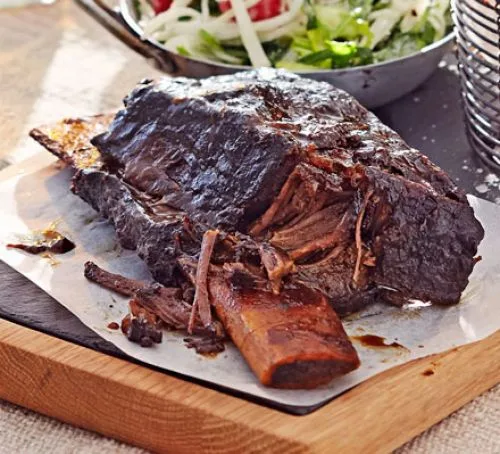 INGREDIENTS
4 meaty beef short ribs (about 2kg)60ml sunflower oil2 onions , thickly sliced

450ml hoppy American-style craft lager

700ml good-quality chicken stock

140g black treacle

small bunch thyme

100g ketchup

100g American mustard

75g brown sauce
For the marinade
2 tbsp cayenne pepper
2 tbsp smoked paprika
1 tbsp toasted cumin seeds
2 tbsp garlic powder
1 tbsp cracked black pepper
6 tbsp sunflower oil
METHOD
First, make the marinade. Mix the spices and 3 tbsp salt in a bowl, then stir in the oil to make a paste. Use a knife to make a deep hole in each short rib, then rub the spice mix all over and into the hole, working the flavour into the meat. Place on a tray, cover and chill overnight.
The next day, heat oven to 150C/130C fan/gas 2. Heat the oil in a large, shallow pan, tip in the onions and fry until you start to get a deep, rich colour (about 20 mins). Don't be scared of the colour, this will add an amazing savoury sweetness to the dish. Pour in the beer and boil, allow to reduce by half, then add the stock, treacle, thyme and oak chips, if using. Stir well and bring to a simmer. Place the marinated short ribs in your largest roasting tin. Pour over the onion and beer braising liquid, then cover tightly with foil. Transfer to the oven and cook the short ribs for 5 hrs or until really tender.
Once the ribs are cooked, remove and put on a plate to rest and cool. Strain the braising liquid into a saucepan. Once settled, use a ladle to remove the top layer of fat, then set over a high heat. Simmer the sauce until it becomes rich and glossy, then whisk in the ketchup, mustard and brown sauce.
To barbecue the ribs, heat your coals until ashen or set a gas barbecue to medium. Cook the ribs until nicely charred and hot all the way through, then baste with the sauce to finish and cook until sticky. To cook them indoors, heat the grill. Set a wire rack over an oven tray and place the ribs on top. Baste well with the sauce and grill, basting with the sauce a few times, until it forms a charred, sticky crust. Set aside to rest before serving with the onion rings and slaw.